This Bushtec Adventure Delta Zulu Combo Canvas 4 Person Chalet Tent with Gazebo is a 2-in-1 incredibly strongly built waterproof and breathable tent for all seasons and all climates.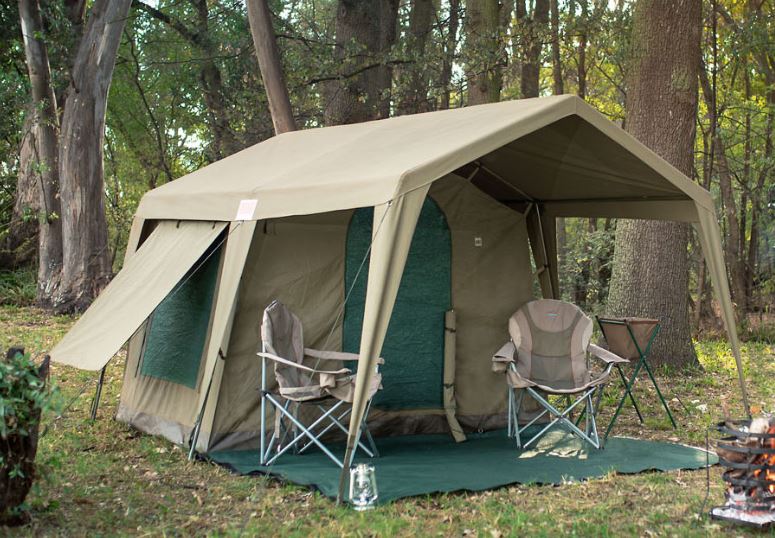 ---
Key features & benefits
Framed tent.
Incredibly strong and durable.
2-in-1 Modular construction with gazebo.
4-Season tent.
Breathable canvas.
Dark rest type.
---
What this Delta Zulu Combo Tent is about
This Bushtec Adventure Delta Zulu Combo Canvas 4 Tent is one of the most impressive tents currently on the market. The title above describes what you have here as a package (tent plus gazebo), but you will see the tent alone on Amazon under the name Delta Zulu 3000 Canvas 4 Person Chalet Tent.
So do not get confused, the package which is presented here in the text includes also what they call Zulu 1200 Gazebo that can be ordered separately, you can see it here.
Now back to the Combo set description. This is a fully freestanding framed structure, and the meaning of this is that the frame is self-supportive and you raise it first together with the fly. Only after that you can attach the tent, but the gazebo can be used on its own as well as the picture below shows. This explains the phrase 'modular' and 'with gazebo' in its name, and this is what I mean by a 2-in-1 set.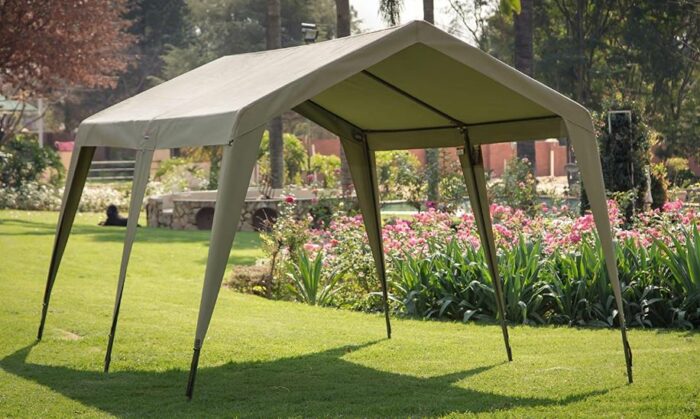 The tent is a single-room cabin style structure with one very high door (see the picture below) and two windows with mesh and panels for protection and privacy. This is also a very tall tent, the picture below shows this clearly. The inner tent's peak height is an impressive 7 ft (213 cm).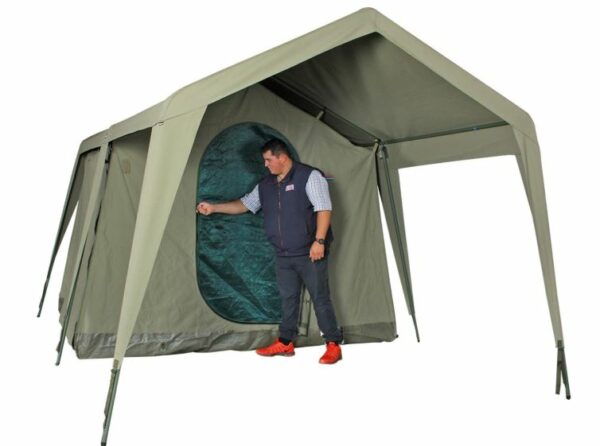 The porch/awning is created by the fly (gazebo) and it is much longer than the tent itself, you can realize this from the side-view below. There are around 7 feet (213 cm) long covered space in front of the tent. I have included it in my list of best cabin tents with a porch.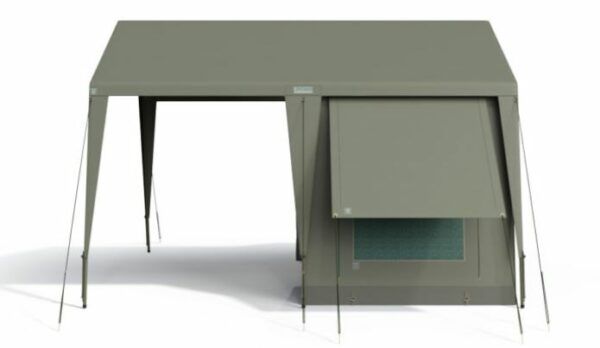 ---
Materials
The materials are the best part of this structure. So let's see what this all includes.

The fabric
This is a military-grade durable and thick cotton canvas, 550 g/m². They claim it is UV and rot protected and it will not show noticeable color fading for 15+ years. This sounds like an incredibly strong statement.
The waterproof rating does not sound impressive though, 550 mm only, this is just a bit more than a good umbrella. But you will probably never need more. The seams are taped. The fabric is CPAI 84 fire retardant.
The floor is a sewn-in 550 g/m² PVC material, bathtub style, this is what they call flood walls, it goes around 19-20 cm above the ground. You will see a picture about this below, and also in this video:
Note that the windows are three-layer structures, with a mesh and with flaps both from inside and from outside. The same structure is in their Bushtec Adventure Alpha Kilo 4000 Canvas 6 Person Bow Tent that is also shown in the video above. So this is an impressive design and you will not find it in many tents on the market. I have included it in my list of best canvas camping tents.
Dark rest tent: So this is the feature not even mentioned by the manufacturer, but the cotton fabric they use is thick and you have it in two layers above and in three layers on the windows. So the area inside is much darker than in ordinary tents.
The frame & other metal parts
You have noticed that I use the word impressive here a lot, this is with all the good reasons, and it applies to the frame as well. The pictures below show some details from its incredible rock-solid construction.
There are 9 in total those 3-way and 4-way corner and top connectors similar to the one shown in the picture below. As you see in the picture, there are pop-up click buttons that lock the tubes in place when they connect through those hub elements. The tubes are a premium grade powder-coated steel with 1.2 mm walls. You can see more in this Zulu 1200 Gazebo manual file.
The other pictures show all the metal parts used throughout the tent, like those bras eyelets and steel hooks, steel D-rings combined with steel stakes, inner D-rings where you can attach some stuff, and the top quality YKK zippers.
But this is not all. An e-cable port is there as well. The picture on the right shows the mentioned bathtub floor and its thick material with a zinc-coated D ring etc.
Other features
Storm straps included.
Unbendable ground stakes.
Waterproof carry bag. They write it is easy to transport, but see the weight.
---
Who is it for
Regarding space, the declared capacity is 4 people. So the inner area is not particularly large, there is only 54 ft² (5 m²). But there is also a huge porch that adds to the covered area which is in total 143 ft² (13.2 m²).
Now, the porch is without walls so this is not a fully protected space, but there are several accessory elements they provide so you can close it completely, and this then becomes a fully protected area. You will see them in the text below.
Note that with such tall and vertical walls, you can increase the capacity by using camping bunk cots. They are available both for kids and for adults. I have included it in my list of best 4-person family camping tents.
Regarding the seasons & climate, they claim this is a 4-season tent and such a statement is fully justified. This tent is as great for the warm weather as it is for a cold environment.
The cotton canvas they use here is of the best quality on the market, breathable and pleasant, so it creates a cool atmosphere for summer camping. You have mesh on all the openings so ventilation can never be an issue in this structure.
On the other hand, canvas gives a bit of insulation if you use it in the wintertime. The windows and the doors can be completely closed with the panels.
They claim it is tested to withstand winds up to 60 mph. No doubt it is built strong and it can withstand anything. Nevertheless, you have seen how tall and boxy this tent is, so this is not a particularly aerodynamic construction.
So I would not use it in very windy places, as far as I see it, it is simply not designed for such an environment, no matter what they may claim. Use their Bushtec Adventure Alpha Kilo 4000 Canvas 6 Person Bow Tent if you want something incredibly aerodynamic for windy places. This is why I have included this Delta Zulu Combo Canvas 4 Person Chalet Tent in my list of best cool weather tents for camping but not in the list of best winter tents.
Regarding the weight, well, be ready for this: the tent weighs 127 lbs (58 kg). So this is not something to carry, and you will use it at places with a motorized access.
The packed size is also impressive (in a very negative sense), it measures 52 x 22 x 16 inches (132 x 56 x 41 cm). So again, this is not an easy to use and handle tent.
But the setup is not so complicated, you will see in the video how this is done. They claim it is 30 minutes, I would say plan more for the job. This is not a tent to change place frequently. In any case, have a look:
---
Specifications
Declared capacity: 4 people.
Packed weight: 127 lbs (58 kg).
Dimensions (L x W x H): 13 x 11 x 8 ft (396 x 335 x 244 cm).
Inner tent size (W x L): 9 x 6 ft (274 x 183 cm).
Inner area: 54 ft² (5 m²).
Inner tent peak height: 7 ft (213 cm).
Packed size: 52 x 22 x 16 in (132 x 56 x 41 cm).
---
Accessories
You remember what I mentioned about the capacity and how it can be drastically increased. So see what they have provided for this purpose:
Bushtec Adventure Zulu 1200 Gazebo Half Mesh Diner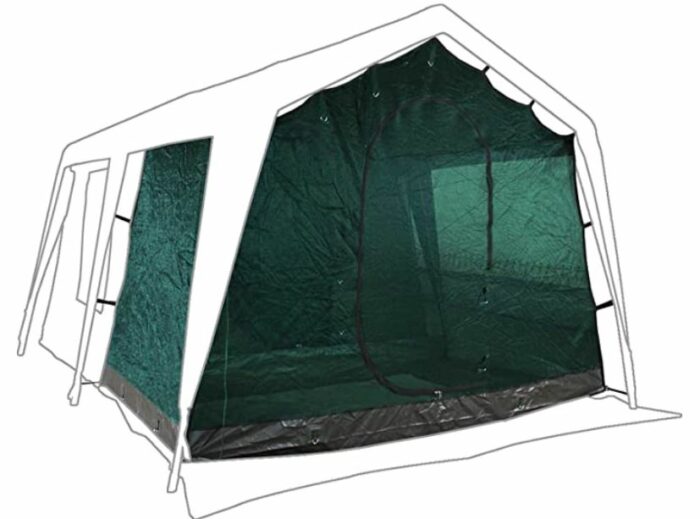 This mesh completely closes the porch area and you will be protected from flying insects. The weight of this element is 23.45 lb (10.6 kg). It can be ordered here.
Bushtec Adventure Zulu 1200 Gazebo Canvas Apex Wall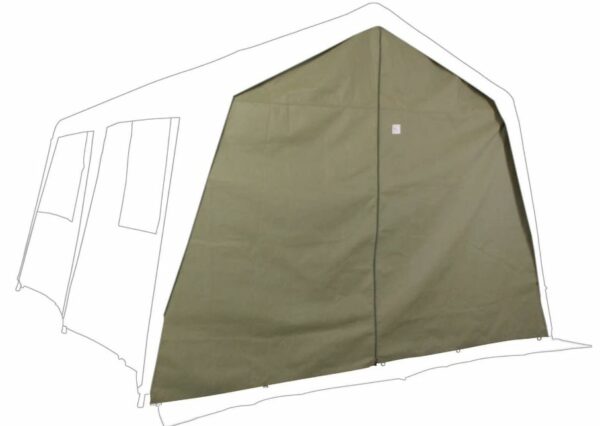 This is the front wall with the zipper in the middle, and it weighs 6.4 lb (2.9 kg). It can be ordered here.
Bushtec Adventure Zulu 1200 Gazebo Canvas Side Wall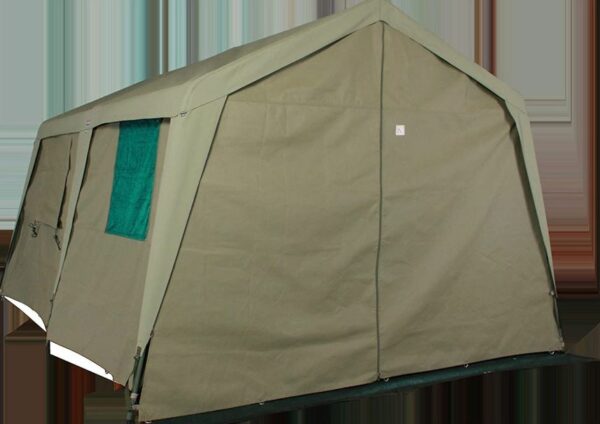 This element adds yet another layer of protection on the sides of the porch, and it also includes windows. Its weight is 9.35 lb (4.2 kg) and it is available here.
Bushtec Adventure Zulu 1200 Gazebo PVC Floor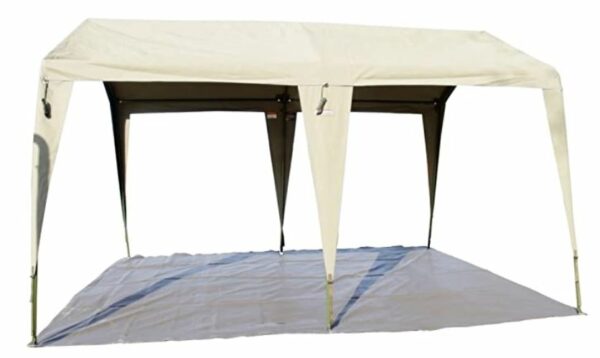 So this is yet another great addition, you can use it with the gazebo setup only, and also with the full Combo setup. In combination with the other accessory elements shown above, it will give yet another level of protection in the porch when it is walled. You can order it here.
---
Final thoughts, rating, pros & cons
In summary of this Bushtec Adventure Delta Zulu Combo Canvas 4 Person Chalet Tent with Gazebo review, this structure is built in the best tradition of this brand. They claim it is made to last over 15 years, and they give a 3-year warranty on all parts.
The inner area is not particularly large, hence my low rating (see below), but the porch is huge and you can increase the fully protected area with the accessories listed above. In this case, the declared capacity can be doubled.
They also claim that this structure manufactured by using a military-grade canvas combined with superior quality parts and functional designs is the preferred supplier for the military, United Nations, WHO, UNICEF, and UNDP. But regardless of what they claim, you have seen its features, this is indeed a high-quality product, fully recommended.
Please see how I rate this tent. Note that I have a set of criteria and I apply them consistently to all the tents here, this is for easy comparison with respect to some basic parameters. So the rating is not as high as you would expect from how I described the tent in the text above.
Note also that I give it to much for 'protection' because its waterproof rating is formally very low, and protection from rain is the most important feature for any tent. But its other features are exceptionally good (strong frame, durable material, great UV protection, etc). All in all, it is very difficult to rate this tent properly using the standard criteria, this is a very specific tent. So you may disregard the rating if you wish, as I said above, I fully recommend this tent.
Delta Zulu Combo Canvas 4 Person Chalet Tent with Gazebo
You might want also to check this Bushtec Adventure Echo 2200 Luxury Camping Tent from the same brand and built in the same style.
Note that I add texts here on a regular basis, so bookmark this site and visit occasionally. Stay informed and subscribe to my weekly newsletter, there is a subscription form below. Have a nice day.