This Kodiak Canvas Deluxe 8 person tent is a waterproof yet breathable and incredibly well-built and reliable tent with steel frame, two doors and four windows, suitable for all seasons and all weather conditions.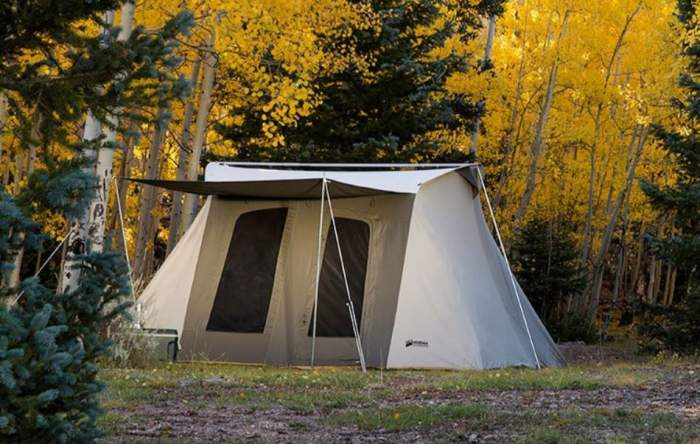 ---
Key features & benefits
Breathable & waterproof cotton canvas.
Strong vinyl floor.
Steel frame with Flex-Bow roof.
Two doors.
Four windows.
Awning.
Removable gear loft.
Removable organizer.
---
What this is about – what type of tent is this
This is a tent that has been on the market for a number of years already. But if you are not familiar with the tents of this brand, it may be confusing because of their three different Kodiak Canvas Basic, Deluxe, and VX Flex-Bow tents. I have summarized the differences in my separate text so please follow the link to read more.
The tent has the numbers 6014 in the name, and you will see it also with the name Kodiak Canvas Flex-Bow Deluxe 8-Person Tent where the words Flex-Box describe its roof structure.
So what you have here is a non-freestanding tent and you have to stake it down properly. Note that the tent is with two legs poles (visible in the pictures), and this tells you how important stakes are when you want to pitch it. It is necessary to have a ground that keeps the stakes, so this will not work on gravel, sand, rock, or on a frozen terrain.
As the name suggests, this Kodiak Canvas 8 is a 100% canvas tent. This implies many things and most of them are great. Canvas is a material that insulates better than any synthetic used for tents. But it is also breathable and it creates a cool atmosphere, and this all makes it suitable for warm and dry weather conditions.
But these tents are also waterproof due to some specific features of cotton canvas, and if you think about tents for all seasons, this is the closest you can get to this.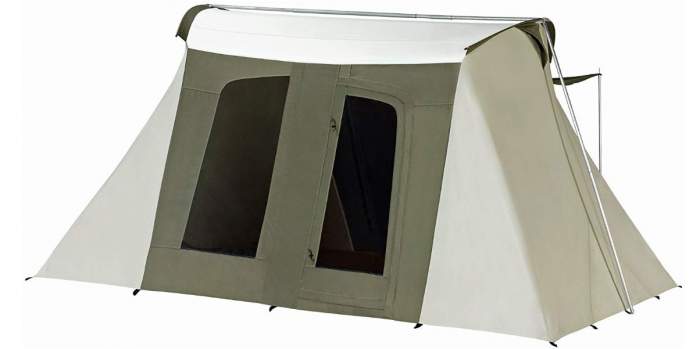 What Deluxe in the name means
This is to make the difference from the Basic series. In short, you have two windows more, vents, a hanging organizer, and a gear loft that are missing in the Basic series.
So this is a very pleasant structure with a stand-up height of 6'6″ (198 cm), with two doors and with two separate windows plus two windows on the doors. The picture above shows the rear side where you have the second door. All these windows are double-layer constructions with zippered panels and mesh, for privacy and protection, see how it looks from inside: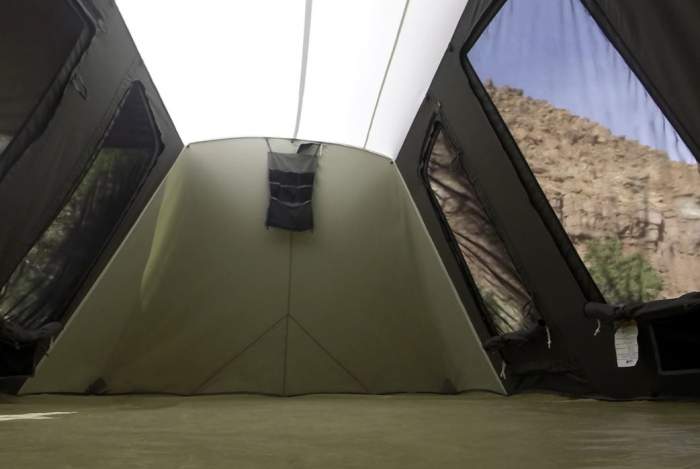 The tent comes with an included awning and its poles. The floor plan picture below shows how the awning extends the useful area so you can use it to sit under the shade and for cooking. I have included it in my list of best canvas tents with awning.
---
Who is it for
Space-wise, the declared capacity is 8 people, and the area is 140 ft² (13 m²). So in the case of 8 users this would give 17.5 ft² (1.6 m²) per person. This is enough to put 8 pads on the floor but clearly not so great if you have gear around. So it is best to downgrade this to up to 5 people or so.
The picture below shows the most important dimensions and the floor plan. So you realize that you need 14 x 14 ft of the ground area to pitch this tent.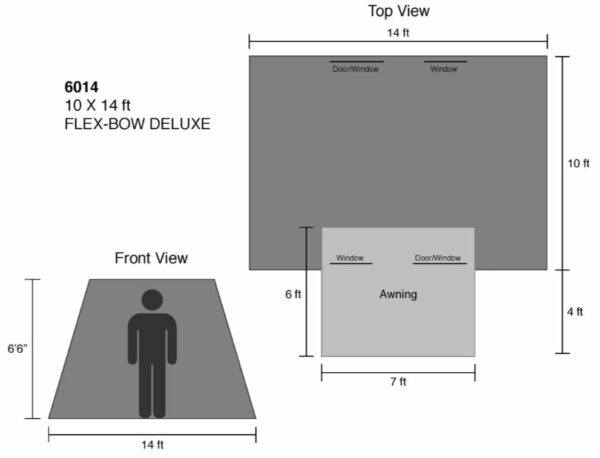 Seasons-wise, I already mentioned some of the features of such tents that make them suitable for all seasons. So indeed this applies here and I have included it in my list of cold weather tents for camping, but this is a true 4-season tent, no more no less. Note that it works without guylines, those that are included are for the awning only, but you would not use the awning in a strong wind in any case.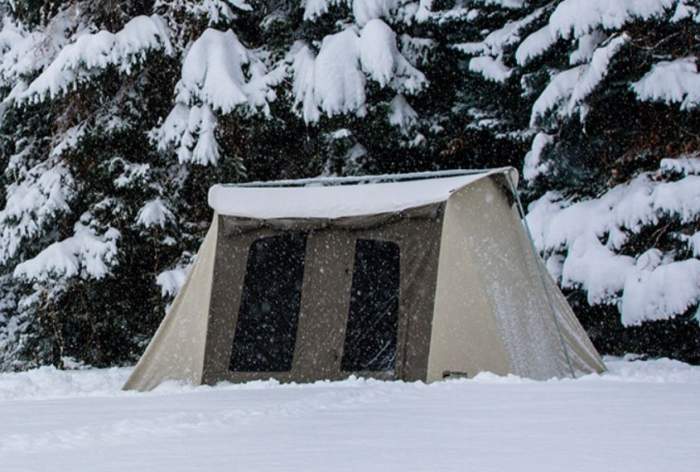 Weight-wise, with 79 lb (35.8 kg) of weight, this tent is everything but lightweight. But it is not built to be carried around so the weight should not be a big deal. There is lots of steel here and the cotton canvas is a strong and heavy material so the weight is justified.
The packed size is 30 x 16 inches (76 x 41 cm) for the tent and 48 x 5.5 inches (122 x 14 cm) for the poles. So this is a bulky thing and you need a car for transportation.

---
Materials & construction
The poles & stakes
All metal elements here are build from steel. So the frame is a tempered flex-bow type and this is 3/8-inch solid spring steel, very sturdy and it keeps the tent's roof taut. The two legs on the sides are 1-inch galvanized steel tubing. All the poles in the package are shown in this picture below, as you see 10 in total and some are with multiple segments, hence such a weight: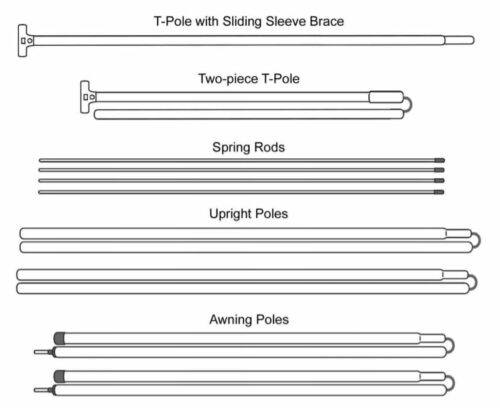 There are 18 steel stakes in the package, and they are 12 inches (30 cm) long.
The fabric
The ceiling is 10 oz Hydra-shield canvas, and the wall is 8.5 oz Hydra-Shield canvas. This is a tough and long-lasting material that minimizes mugginess and holds up to strong winds, rain, and even snow. You have a silicone finish which makes the canvas watertight yet breathable, and it minimizes condensation.
The floor is 16 oz vinyl, polyester-reinforced and seamless. Note that this is not a bathtub design, pity.
The tent is designed with a large 7 x 6 ft (213 x 198 cm) awning. When not in use, you can roll it up and fix it above the door. Make sure you roll the awning down and under so water will run off and not pool on the roll.
Waterproofing: If you experience leaking, they suggest treating the leaking area with a silicone-based spray such as Kiwi Camp Dry. They do not recommend using any other type of spray, and the reason is that this might affect breathability.
Other features
Customizable gear loft. It can be used in a horizontal attic style, or a sling style. For attic style, clip the corners of the gear loft spread out into four corresponding tie-rings in the ceiling. But for the sling style, fold lengthwise, and clip two of the loft clips into one of the corner tie-rings, and clip the other two into the opposing corner.
Organizer pockets. Clip them on the tie rings under the vents, one on each side, or clip one to the bottom of the other.
A couple of wall pockets are above the floor.
The zippers are quality #10 YKK zippers.
Windows are with no-see-um mesh.
The carry bag is a wrap and cinch type for the tent.
There are only two guylines in the package and they are used for the awning.
Interior tie-rings which you can use to clip on the organizer accessories, attach gear, lights, clotheslines, etc.
Ventilation
The fabric is breathable, and mesh is on all the windows. But even if you have to close the panels on the windows, they have added two vents on the sides. They are with mesh and with inner zippered panels so you can close them if you feel cold. They are funnel-flow vents designed so that a breeze will actually funnel into the vents and force air to move through the tent. There is nothing to object to this design.
Setup
One person can set this tent up in a few minutes. It is best to see this in the video below, this girl is pitching a smaller version but the steps are the same, have a look:
In the video below you can see this a few more details about this Kodiak Canvas Deluxe 8 person tent:
---
Specifications
Declared capacity: 8 people.
Weight: 79 lb (35.8 kg).
Dimensions: 14 x 10 ft (4.3 x 3 m).
Area: 140 ft² (13 m²).
Area per person: 17.5 ft² (1.6 m²).
Peak height: 6'6″ (198 cm).
Packed size (L x D):
– Tent: 30 x 16 in (76 x 41 cm).
– Poles: 48 x 5.5 in (122 x 14 cm).
Warranty: Limited lifetime warranty.
---
Kodiak Canvas Flex-Bow Deluxe 8-Person Tent vs Competitors
I have decided to show you this Deluxe 8 Tent side by side with Springbar Highline 8 which is very similar and Teton Sports Messa 14 tent which is with the same floor area but with a different roof construction although it also has a flex-bow system.
As you realize, all are heavy and expensive, but also reliable and strong tents for all seasons. Please follow the links for more.
---
Final thoughts, rating, pros & cons
In summary, this Kodiak Canvas Deluxe 8 Person Tent is incredibly well built, strong, sturdy, and very reliable. It is heavy though and also bulky when packed, so bear this in mind. If you can afford it, you will have a tent for many years and for any weather situation. Fully recommended. I have added this tent to my list if best canvas tents.
Buying such a tent is an investment, but you will have a tent for any weather and any season. Please see how I rate it. I use a set of criteria and apply them consistently to all the tents here in the site so you can easily compare. So it is better to compare than to focus on the actual rating numbers, but have a look in any case:
Kodiak Canvas Flex-Bow Deluxe 8-Person Tent
BEST PLACE TO BUY:
Check this Dream House Double Layers Waterproof Safari Glamping Tent if you want something very different but with polycotton fabric.
Note that this is not a sponsored text, and I am not paid by the brand. Please let me know if you have a question or comment, there is a comment box below. Have a nice day.