This Dream House Double Layers Waterproof Safari Glamping Tent is an impressive, luxurious, very tall polycotton tent with a steel frame and high waterproof rating.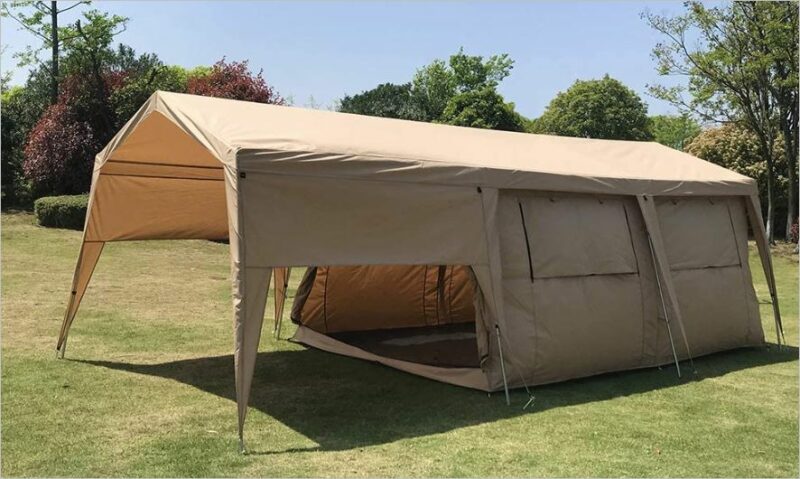 ---
Key features & benefits
Poly-cotton fabric.
Steel frame.
Huge awning.
Separate fly.
Great waterproof rating.
---
What is in the name
They use the words 'double layers' in the name of this tent. The meaning is simply that the tent has a separate but partial coverage fly that extends to create a huge awning on the front.
So strictly speaking this is not a double layer tent, but you do not need two walls in such a tent in any case, just to know the meaning of the words. The picture below shows how the tent is attached to the frame underneath the fly: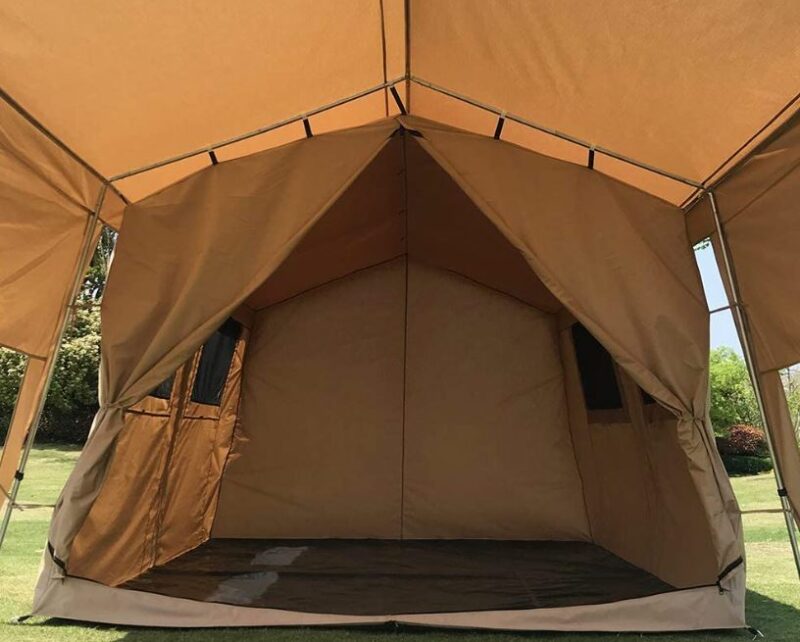 So this is an impressive freestanding cabin-style structure with a huge front door and four large windows on the sides. Note that all those windows are indeed double-layers, with mesh against insects from inside and panels for privacy and protection from elements from outside. The picture below shows the inner view so you get some idea about windows' design: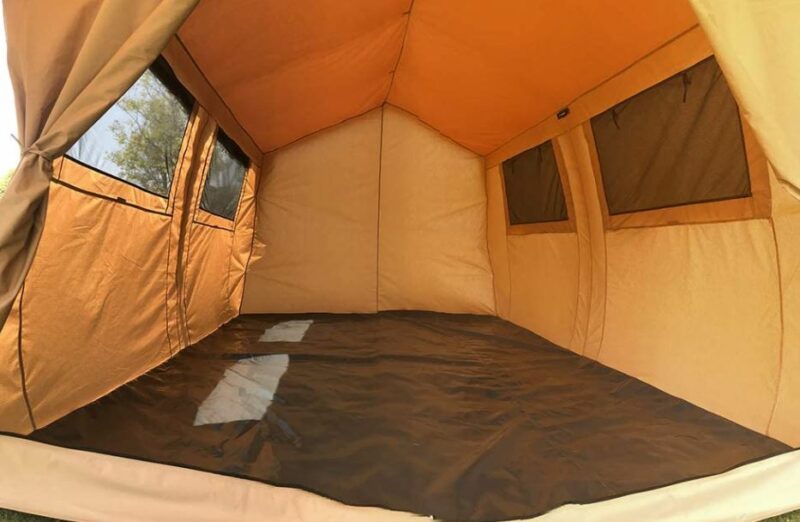 The tent is very tall with an inner peak height of 87 inches (221 cm) and with the lowest height on the sides 71 inches (180 cm). So you have a stand-up height in this impressive structure, and I have included it in my list of extra tall family camping tents.

---
Who is it for
Space-wise, they do not make any official statements about the capacity and I think this is a good policy. The inner tent is with an area of 117 ft² (10.9 m²). The awning in front of the tent is roughly 300 x 209 cm and this means you have around 6.3 m² of the area that is partly protected, the picture below shows that the roof goes quite low on the sides. I have included it in my list of best canvas tents with awning.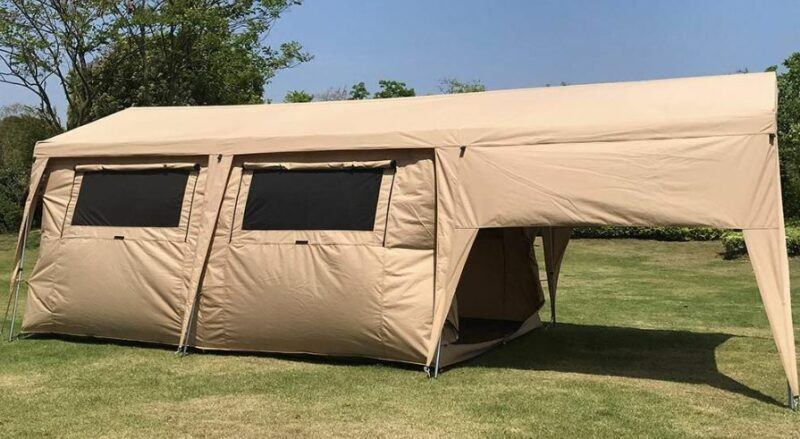 This tells you that some of the gear can be stored outside and they might be protected from the rain. Note that the awning area is deep and you can place your cooking table and chairs underneath it.
Back to the inner area, if you would use pads on the floor, you could easily put 8 of them. This would be its maximum capacity and this is why I have included it in my list of 8-person tents. But this would not be so comfortable, and I think it is best to downgrade the number of users to 5 or so. It can easily accommodate two double-size beds.
On the other hand, you have seen that back wall without windows, so there you can use bunk cots and save the floor area a lot. Such cots fit nicely into tall tents with vertical walls like the one you have here, and they build them both for adults and for kids.
Weight-wise, this is an extremely heavy tent with two packages that include the tent and the poles, so the total weight is 66.13 + 55.11 lb (30 + 25 kg). Clearly, this is something you would not want to carry.
The packed size is also huge, the dimensions of the two packages are given in the specifications below. The length is 47 inches (120 cm), so this is long, and you need a car.
Climate-wise & seasons-wise, there is no doubt this is a tent for all seasons and climates. But you have seen the words 'safari' and 'glamping' in the name and I do not associate such a word with some harsh weather conditions.
On the other hand, with such an awning and high fly, I do not think it is best suited for very windy conditions. All in all, it is best to use this tent in calm weather situations.
---
Materials
The fabric
They use poly-cotton ripstop fabric 280 g/m² plaid cloth with PU coating that gives it a 3000 mm waterproof rating. The mesh areas on the windows is a B3 thick black mesh. The floor is a heavy-duty 550 g/m² PVC with a 5000 mm waterproof rating.
So these are extremely durable and top-quality materials for full protection. The tent is breathable and such a fabric makes the atmosphere cool in summer.
The poles, stakes & zippers
The poles are galvanized steel tubes 22 mm diameter and 1 mm thick walls. This is behind its strong frame that you need for such a heavy fabric. There are 15 smaller plus 8 big stakes, and 8 wind ropes. The zippers are #10 nylon.
Other details
There is an E-cable port.
There are three rings on the ceiling for lights.
---
Specifications
Weight (tent + poles): 66.13 + 55.11 lb (30 + 25 kg).
Dimensions: 236 x 118 in (600 x 300 cm).
Inner dimensions: 154 x 110 in (391 x 279 cm).
Inner area: 117 ft² (10.9 m²).
Top height: 89 in (226 cm).
Inner height: 87 in (221 cm).
Side height: 71 in (180 cm).
Packed size tent: 47 x 16 x 10 in (120 x 40 x 25 cm).
Packed size: 47 x 9 x 8 in (120 x 22 x 20 cm).
---
Final thoughts, rating, pros & cons
So to summarize this Dream House Double Layers Waterproof Safari Glamping Tent review, what you have here is a very pleasant and comfortable tent, or better to describe it as a very luxurious camping castle.
It is indeed very heavy and bulky, and this is not for people who change the camping place frequently because pitching this tent takes time. It costs a lot, but it is worth the investment. You have very durable materials so this is a structure that will last many years. I have included it in my list of best canvas camping tents and also in the list of best cabin tents with a porch.
Please see how I rate this tent, the same criteria are used for all of them here in the site so you can easily compare:
Dream House Double Layers Waterproof Safari Glamping Tent
For more tents of this type please check under the category Canvas Tents. Just look around if you need more options, this site is all about tents. Note that this tent is similar by shape to the Bushtec Adventure Echo 2200 Luxury Camping Tent, so you might want to compare them.
You might want to know that there is yet another tent from this brand presented here in the site, the Dream House 10 Person Cotton Canvas Tent.
Note that we add texts here regularly, so bookmark this site and visit occasionally. There is a subscription form below for our weekly newsletter. Have a nice day.