The Marmot Limestone Lanai Shelter is freestanding and supported with quality aluminum poles, with three huge doors, and with a waterproof roof.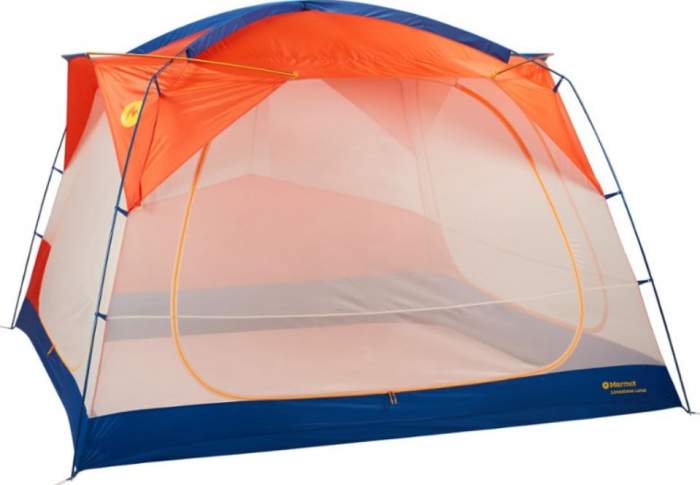 ---
Key features & benefits
Freestanding screen house.
Very tall.
3 Doors.
Inner laundry line.
Aluminum poles.
---
Overview
This Marmot Limestone Lanai Shelter is a very typical screen house, but it has some extra features that set it apart from its competitors. It can be described as fully freestanding. This is mainly because of its X-crossed poles.
But if you look closely, you will realize that they have added two extra poles that create small awnings above the doors. Having such awnings is good because you have a sort of dry entry points. More importantly, these poles create tension in the fabric, so the structure is far more stable than if these roof poles would be absent.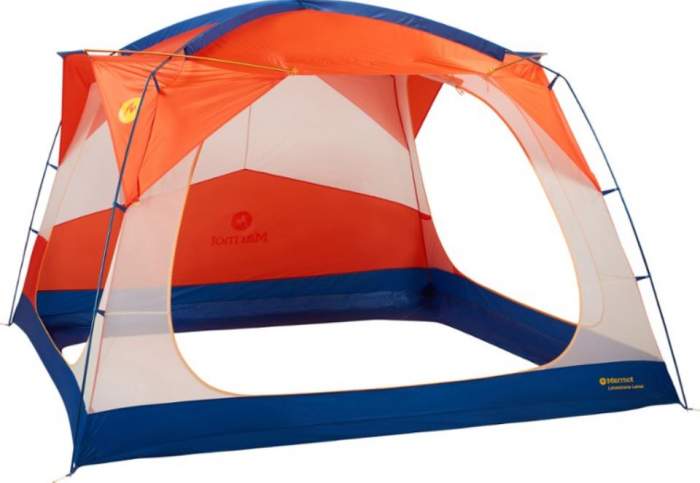 The picture above shows that three sides of this structure can be fully open, so it looks like s sunshade. Only one wall is fixed and this is a taffeta. This is useful because you can orient the shelter so that this wall faces the wind or the sun. Below you can see how it looks when only one door is open.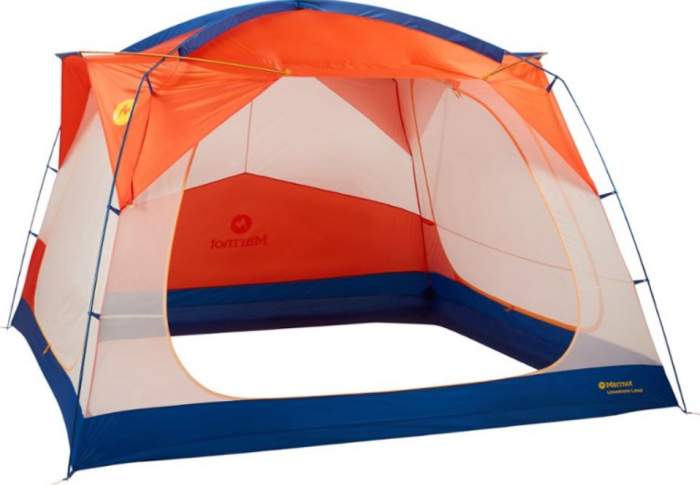 Observe also that the poles are pre-bent so the sides are steep and almost straight. The shelter is very tall with its 85 inches (216 cm) peak height, so you have a stand up height everywhere.
Materials
The poles: You have 4 poles with 12 mm diameter, and this is Velocity HD aluminum. They create a sturdy rugged and reliable support for the body of the shelter, and they attach via integrated clips and sleeves.
The fabric: The walls are a 68D 100% polyester ripstop combined with a 40D 100% polyester no-see-um mesh. The roof is a 68D 100% polyester oxford with a 3000 mm waterproof rating, F/R. The seams are sealed.
There is also a ground skirt design for bug protection, and this is a 150D 100% polyester oxford with a 3000 mm, F/R. A stuff sack is included
---
Who is it for
Regarding the area & best use, you have a square space with 110 ft² (10.2 m²), and the dimensions are such that it will fit over any standard-size picnic table. It is only a bit larger than the Berghaus Air Shelter, but it is smaller than quite a few of its competitors like CAMPROS Screen House Room and some others.
You have already realized that it has a waterproof roof, so this is a limited protection if drizzle threatens you. Such a shelter you can use for sitting in the camp, at the beach, or anywhere outdoor. It can be used also as you camp kitchen space next to your camping tent or your RV.
Note that you have an included laundry line so you can hang towels and similar items to dry under the roof. I mentioned that the structure is freestanding and stable, but you have guyout attachment points on corners for extra stability in windy conditions.
Regarding the weight, you will hardly find a screenhouse that can match this Marmot Limestone Lanai Shelter. It weighs only 12 lb 4.5 oz (5.6 kg), so it can be described as truly ultralight. But see also my YDYL Screen House which is in the same category.
The packed size is (L x D) 24 x 9 inches (61 x 23 cm), so this is compact enough to be transported even on a bicycle.
Regarding the price, this shelter is quire expensive. But this is not surprising in view of its quality and the renown brand behind it.
---
Specifications
Weight: 12 lb 4.5 oz (5.6 kg).
Dimensions: 126 x 126 in (320 x 320 cm).
Inner area: 110 ft² (10.2 m²).
Peak height: 85 in (216 cm).
Packed size (L x D): 24 x 9 in (61 x 23 cm).
---
Final thoughts, rating, pros & cons
In summary, this Marmot Limestone Lanai Shelter is incredibly light, compact, and supported with quality aluminum poles. It is also fully freestanding and you can set it up on any terrain. The roof is highly waterproof so you have partial protection from the rain. Fully recommended. I have included it in my list of best camping screen houses.
Below you can see how this shelter stands against my standard rating criteria that I apply consistently to all of them here in the site so that you can easily compare:
BEST PLACEs TO BUY:
For more tents of this shape please check in the category Screen Houses. You might want to compare it with this Sierra Designs Outdoor Magnetic Screenhouse. But see also the Naturehike Airpole Bower Hexagonal Inflatable Screen Room with its unique features.
Let me know if you have questions, there is a comment box below. Bookmark this site and come again, this will keep you informed, as you realize I add texts here on a regular basis. Thank you for reading.