---
MOOSE OUTDOORS Inflatable Tent 10 person is a tall 3-room structure with 3 large doors and 4 windows, with a great waterproof rating and an easy setup.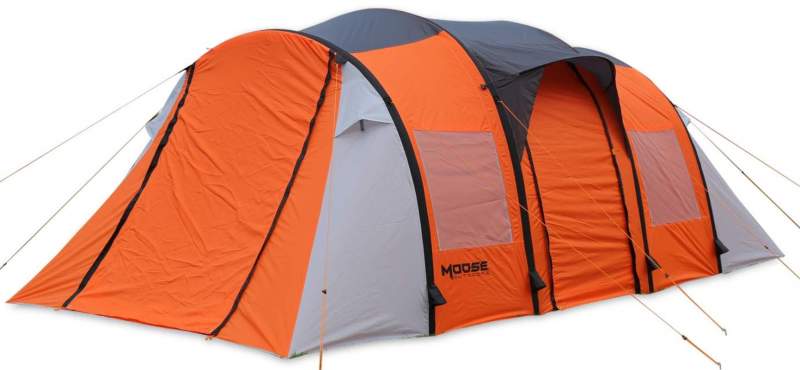 ---
Key features
Inflatable air beams instead of poles.
Easy setup.
Tall tent.
4 Windows.
3 Doors.
3 Awnings configurations.
3 Rooms.
Huge waterproof rating.
---
Where to buy
This tent is available on Amazon. So follow the link and benefit from their efficient global shipping service.
---
What this is about
This MOOSE OUTDOORS 10 Tent is an inflatable tent as its name says, and the structure is tunnel type but obviously without the classic poles. One person can make it ready in just a few minutes, and it deflates in seconds after you open the valves. This is the system they call QwikFrame, which is just the air-inflatable construction.
The structure is very tall with the peak height of 79.2 inches (201 cm)  along the main axes. So you have a stand-up height in the bigger part of the tent.
There are three huge doors here and all of them allow for the awning configuration (see the picture). Note that the awning poles are not included. All the doors are double layer structures with mesh against insects and panels for weather protection and privacy.
There are 4 separate windows as well. All the openings are with zippered panels. So this is a generous and luxurious design. This is why I have included it in my list of best inflatable tents.

The tent is a 3-room structure with two sleeping areas and a central living room. All three areas can be used for sleeping as well, you have full protection everywhere, the floor is sewn-in. Note that the dividers are also sewn-in so this is a quality design which offers as much privacy as you can expect from a good multi-room tent.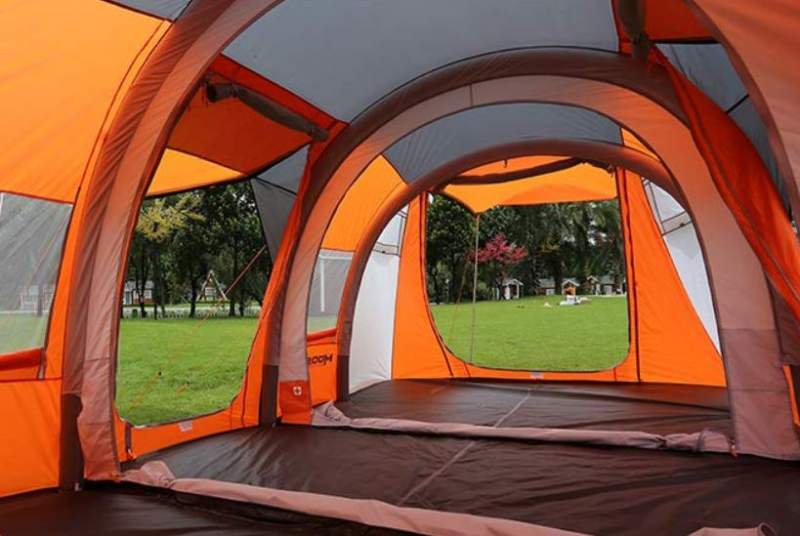 Note also that this is a single-layer tent but this is usual with inflatable tents. Such structures are not freestanding so you have to stake it down properly. All stakes (around 25 of them) and guylines are included in the package, see the picture below. The pump is included as well.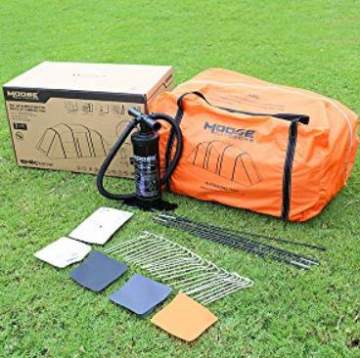 ---
Who is it for
Capacity-wise, they describe it as a 10-person tent, so let's see what it really offers. The dimensions are 19 x 9.2 ft (579 x 280 cm) so the area is around 174.8 ft² (16.2 m²). In the case of 10 people this would give 17.48 ft² (1.6 m²) per person. So you can put 10 sleeping pads on the floor and this is the capacity determined by using the backpacking principle.
But for real family camping, this is a tent for up to 6 people maximum. There are no vestibules or any other storage spaces so you have to keep the stuff inside.
Seasons-wise & climate-wise, they claim the tent is able to withstand winds of up to 33 mph. As an air beam tent, it bounces back regardless of how the wind might deform it. This makes it different from any tent with solid poles which can eventually be broken or damaged; this cannot happen here. There are no large open mesh areas here, and the openings are all with panels for protection and privacy, so I see this tent better suited for a cooler climate.
Weight-wise, they describe it suitable even for backpacking and many outdoor activities, and this clearly makes no sense in view of its 36 lb (16 kg) of weight. So this is a heavy tent suitable for family camping at places with a car access.
The packed size is excellent in view of its size, the measures are 18 x 14 x 12 inches (46 x 36 x 30 cm) so it should be possible to transport it even on a motorbike.

---
Materials
So there are no classic poles here except for short fiberglass brow poles which create small brims above the door. The fabric is a ripstop fabric but they do not provide any additional information, though the waterproof rating is very high 3000 mm. It is fully enclosed with its sewn-in floor which is not a bathtub just to know. There is a statement about "breathable" material which clearly is out of place, it makes no sense.
Other features
A lantern hook is available.
The tent's fabric is suitable for the temperature range -10 to +60 C.
They claim the fabric blocks 97% of the UV radiation.
Fire-retardant in accordance with CPAI 84 standards.
Wall storage pockets are available.
There are several high vents on the front and on the back. However, there are no floor vents which are necessary when you have to keep the doors closed in the rain.
---
Specifications
Type: inflatable tent.
Declared capacity: 10 people.
Weight: 36 lb (16 kg).
Dimensions: 19 x 9.2 ft (228 x 110.4 in; 579 x 280 cm).
Area: 174.8 ft² (16.2 m²).
Area per person: 17.48 ft² (1.6 m²).
Peak height: 79.2 in (201 cm).
Packed size: 18 x 14 x 12 in (46 x 36 x 30 cm).
Warranty: 12 months warranty.
---
MOOSE OUTDOORS Inflatable 10 Person Tent vs Competitors
This is a big tent, but to realize how small it is for the declared capacity, I have decided to show it side by side with two tents by Vango, both inflatable but also both 6-person tents.
So as you realize the Moose Outdoors Tent for 10 people offers less total space. It is better packable but this should be normal in view of its smaller area. The prices are very similar. Please follow the links for more.
18 x 14 x 12
(46 x 36 x 30)
27.5 x 14.6 x 14.2
(70 x 37 x 36)

27.6 x 16.9 x 15.4
(70 x 43 x 39)

---
Final thoughts, rating, pros & cons
In the summary of this MOOSE OUTDOORS Inflatable 10 Person Tent review, it is obvious that this is a nicely built tent. It is big, one of the largest inflatable tents currently on the market by the declared capacity, but the declared capacity is unrealistic for family camping.
The packed size is excellent, the waterproof rating is very high, the price is quite reasonable and appropriate for such tents, but I still have a few objections pointed out in the text above.
Please see how I rate this tent:
If you need more inflatable tents to check, it is best to inspect my separate list with tents of such a type, all the top models on the market are included there. This industry is growing and there are more and more tents of this type appearing on the market. We are adding them as they appear, so stay tuned and bookmark this text. But if you want something more traditional, check this cabin-style GigaTent 10 Person Family Tent.
Note that this is not a sponsored text and I have not been paid by the brand. Please use the comment box below in the case of questions or comments. Have a nice day.

---