---
Tahoe Gear Ozark 3-Season 16 Person Large Family Cabin Tent is a freestanding pleasant and very tall 3-room structure with 2 doors, 9 windows, great ventilation, and a very good price tag.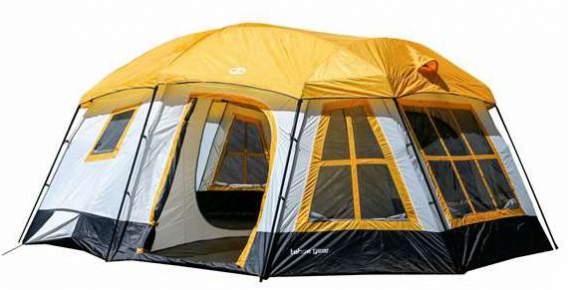 ---
Key benefits & features
Very tall tent.
3-Room design.
2 Doors.
7 + 2 Windows.
E-cable port.
Excellent price.
---
Where to buy
This tent is available on Amazon, they operate globally so please follow the link and check shipping conditions for your location.
You can find it also at Walmart.
---
What type of tent is this
Here you have a cabin style freestanding structure which is among the tallest tents of this type on the market. The peak height is 86.61 inches (220 cm), and I have included it in my list of very tall tents for camping.
The tent is a 3-room type and this includes the following. There is a central sewn-in wall that divides the tent in two equal parts (you will see the floor plan below), with a huge double-size inner door on it. The back area has a removable divider in the middle, so if you use the divider, those two back rooms will have 2 windows each. This back room is shown in the picture: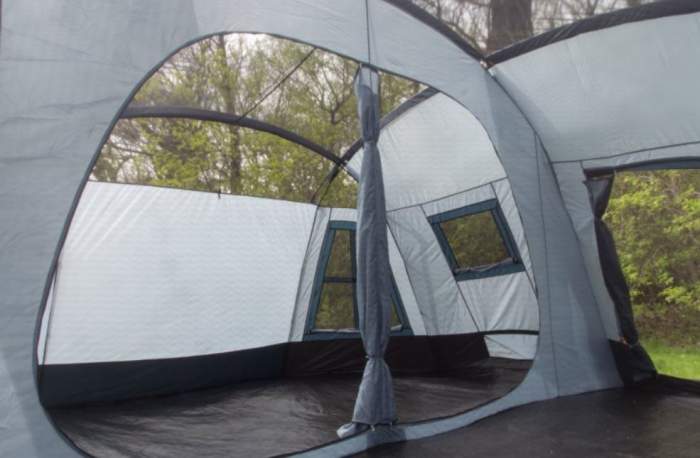 The front room is with 2 doors on the opposite sides, 3 beautiful and large windows, plus 2 windows on the doors, see it in the picture below. You could describe this front room as a screen room but note that the whole front and back area is floored and with the same level of protection from elements. So in this sense, there is no difference in functionality between the rooms. All the windows and outer doors are with mesh and with panels for protection. I have included it in my list of best 3-room tents for camping.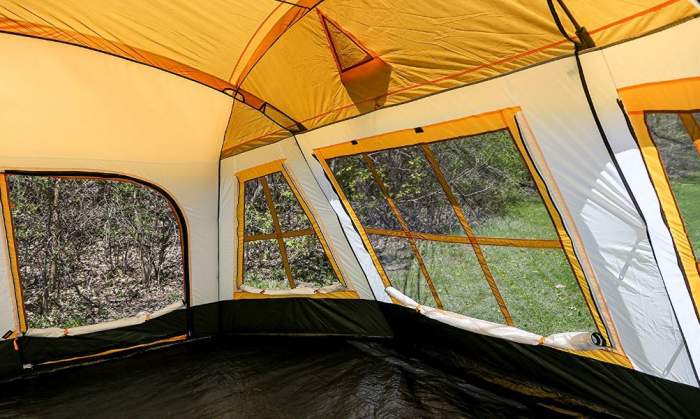 ---
Materials
The poles
There are 10 steel leg poles plus 5 fiberglass roof poles, all of them are shock-corded. They attach to the tent through clips, sleeves, and pin-and-ring elements at the base. Fiberglass is not a very durable material and I have seen a number of users complaining about them. The frame is shown in this picture without the fly: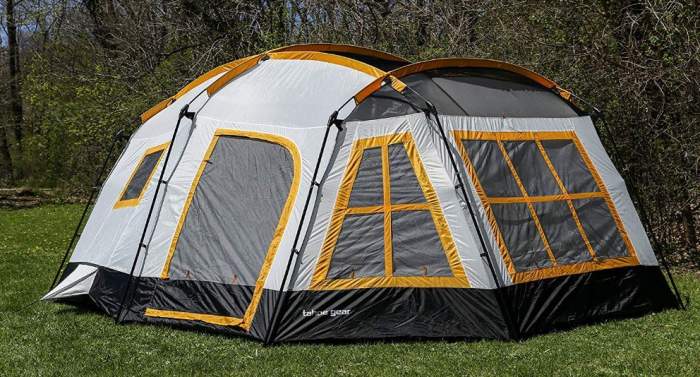 The fabric
The tent body and the fly are both a durable polyester with a 1200 mm waterproof rating. So this is quite good and enough for a tent of this type. Note however that the fly is minimal, it only covers the ceiling, but this is why you have excellent views everywhere around. But this also means you have many exposed seams around those great windows and doors, with plenty of possibilities for leaking.
The floor is polyethylene and such plastic material is normally fully waterproof. Note that the windows are all with zippered panels so this is a great feature which adds value and comfort to this tent.
As for other features, there is one power port available, but there are no storage elements (pouches or pockets), and it is also without lantern hooks, pity.
As for the setup time, plan 20 – 30 minutes, this is all easily done, much easier than what you would expect from such a huge construction.
Ventilation
Ventilation in this tent is really good.
First, this is because of such a huge ceiling mesh area and all the mesh on the windows.
Second, and this may be unusual to see in such tents, you have 2 vents integrated into the fly.
Third, the tent also has 2 floor vents.
So if you are forced to keep all those windows and doors closed, you can still have air circulation. These vents are essential also to fight condensation.
---
Who is it for
Capacity: So declared capacity is 16 people, and let's see how realistic this is. The floor plan is given below, you can see the dimensions but this is not a square and they do not provide the number for the available area. It is more close to an ellipse. My rough estimate is that you have around 204 ft² (19 m²) of the area here, and this implies 12.7 ft² (1.2 m²) per person.
So this is a huge tent and I have included it in my list of extra large family camping tents with all good reasons. But it is obvious that the declared capacity makes no sense. You should reduce this to 7 – 8 people maximum.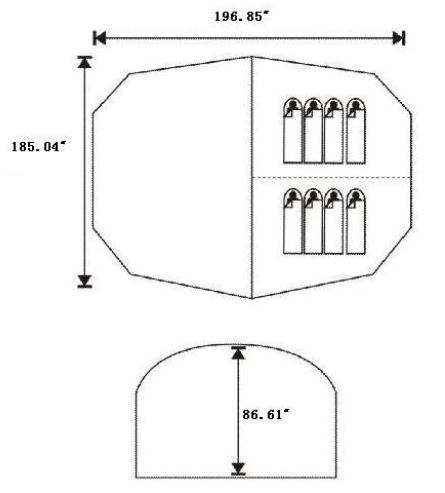 Seasons & climate: In the title above I use what is suggested by the manufacturer. So they describe it as a 3-season tent, but this is definitely not so. Here you have a summer camping tent, or a tent for 2 seasons maximum.
With all its mesh and vents it is a perfect option for warm-weather camping. But these same features make it a bad choice for any cool environment.
On the other hand, the tent is extremely tall and as such, it is not a great option for windy situations. So this is a tent for a quiet summer area without much wind or rain.


---
My rating, pros & cons
Note that it has been on the market for at least 6 years already so it is collected many reports. As usual, there are very negative but also very positive reviews. Please see how I rate it against my standard set of criteria which I apply consistently on all the tents here in the site, so you can easily compare:
Tahoe Gear Ozark 16 Person Tent
---
Specifications
Declared capacity: 16 people.
Weight: 47.3 lb (21.5 kg).
Dimensions: 16.4 x 15.42 ft (5 x 4.7 m).
Area: around 204 ft² (19 m²).
Area per person: 12.7 ft² (1.2 m²).
Packed size: 30.1 x 13.6 x 11.8 in (76 x 35 x 30 cm).
Peak height: 86.61 in (220 cm).
---
Tahoe Gear Ozark 16 Person Cabin Tent vs Competitors
In the table below you can see how this tent compares with some other tents with the same declared capacity. The Ozark Trail 16 tent is also a cabin but with a much different shape, while Wenzel Mammoth 16 is an extended dome T-shaped tent.
So Tahoe Gear Ozark 16 is smaller by the area, but it is taller. All are with 3 rooms and all are affordable summer camping tents. Please follow the links for more.
---
Final thoughts
So as you have seen, this Tahoe Gear Ozark 3-Season 16 Person Large Family Cabin Tent is indeed huge. But 16 people inside would be quite a crowd. Also, it is best not to use it in harsh weather situations. It comes with vents on the fly and above the floor, and with lots of mesh around and on the ceiling, so it is best suited for warm-weather camping. I have included it in my list of best 16 person camping tents.
You might want also to check this Tahoe Gear Gateway 10 to 12 Person Deluxe from the same brand which is an interesting L-shaped tunnel tent.
Note that this is not a sponsored text, and I am not paid by the brand. I love to hear from you, so please use the comment box below and let me know what you think about this text. Have a nice day.

---