Wenzel Mammoth 16-Person Family Dome Camping Tent is a huge structure with 248 ft² (23 m²) of the area in its 3 rooms that are all with separate doors and windows.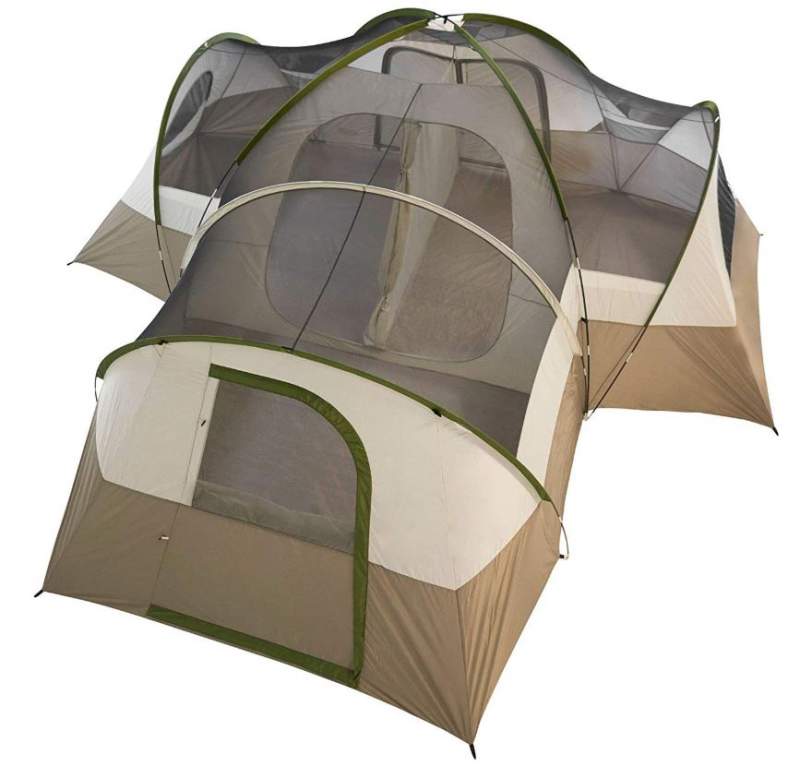 ---
Key features
Huge capacity.
3 rooms.
3 entry doors.
Extended dome tent.
E-port.
Fiberglass poles.
Incredible price.
---
Where to buy
Check on Amazon, they currently have 15 stores on 5 continents with very competitive prices and the best shipping conditions.
You can find it also at Walmart.
---
What this is about
This Wenzel Mammoth 16 tent is an incredible structure and only the top view shown above gives you some feeling about its construction and the space it offers. So this is indeed a dome-style structure but of a very particular type. The tent's main dome is extended in three directions, so the footprint is T-shaped.
Note that it is not freestanding, the extensions must be staked down properly to be of any use. The tent is very tall, 76 in (193 cm) and with tall doors so you have a stand-up height in the big part of the structure.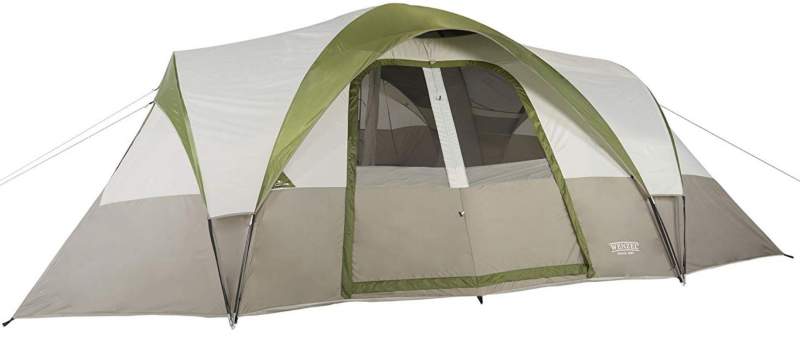 ---
Who is it for
Capacity-wise, the tent is officially for 16 people. However, they are using a backpacking principle, the total area is 248 ft² (23 m²) and this means 15.5 ft² (1.4 m²) per person. So you will manage to squeeze so many sleeping pads on the floor, but think about comfort. In any case, this is an enormous structure and I would say it is best if used for 7 – 8 people maximum, perfect for families with up to 4 – 5 kids.
Seasons-wise & climate-wise, this is a summer camping tent for quiet weather conditions without much rain or wind. The waterproof rating is very low, just slightly above an ordinary umbrella, and the fly is minimal in size covering only the mesh ceiling. With so many openings and seams, many things can go wrong so it is best to avoid serious weather conditions.
The ceiling is all mesh so the tent is for warm-weather camping. It would not be pleasant in a cold environment.
Weight-wise, with 37.5 lb (17 kg) you would not want to carry it anywhere. But you will see below that it is very lightweight when you compare it with some other giants on the market. In any case, this is for places with a car access, and note also that its packed size is excellent.
So who can use it really? I see it best suited for large families summer camping, and for groups of friends who are on some open-air gathering and similar activities. I think the tent is best used with the front room as a living area and the other two rooms for sleeping. But from the shape you realize it is perfect also for three couples.
---
Materials & construction
There are three rooms here and each of them has its own entry door, and each big enough for a queen-size bed. There is a removable divider between the two rooms where you also have two windows on the opposite sides. There are also two inner doors from the main room into the other two rooms, this is visible above in the picture with the tent without the fly.
The poles
The poles are fiberglass and you have them 6 for the tent support plus two short poles used above the doors to create small brims. The poles are partly behind such a good packed size because all of them are shock-corded and do not take lots of space. But fiberglass is not the strongest material and it needs some care. Please read more about poles materials in my separate text.
The fabric
The fly is 185T polyester with a 600 mm waterproof rating and with taped seams. The same tenacity and rating is the material used for the walls.
The floor is polyethylene with welded seams so this should be fully waterproof in any situation. The roof is 68D polyester mesh and the same mesh is on the three D-style doors and windows where you have panels as well.
Ventilation
With so many mesh windows and doors plus the ceiling which is completely a mesh, you probably do not need any vents. So there are lo floor vents and this should be fine as long as you can keep the windows with mesh. But in the case of rain you would have to raise panels everywhere and in such occasions floor vents would be useful. Pity they did not add any.
Warranty
The manufacturer warranty for this tent is exceptional, no less than 10 years limited warranty.
Other features
E-Port for cords, see the picture.
Attached wall mesh pocket.
Gear loft.
Set up pin-and-ring system. For such a huge structure the setup is really easy.
---
Specifications
Capacity: 16 people.
Weight: 37.5 lb (17 kg).
Dimensions: 18 x 18 ft (549 x 549 cm).
Inner area: 248 ft² (23 m²).
Area per person: 15.5 ft² (1.4 m²).
Peak height: 76 in (193 cm).
Packed size: 29 x 11.5 x 11.5 in (74 x 29 x 29 cm).
Poles: fiberglass.
---
Wenzel Mammoth 16 Tent vs Competitors
I have decided to show you this Mammoth 16 tent side by side with two other giants that look similar in style but in fact they are cabin style tents. All of them are 3-room structures. As you realize the Mammoth 16 is far lighter, this is because of its extended dome construction. Please follow the links for more.
---
Final thoughts, rating, pros & cons
So if you do not want to spend much and still want to have a summer-camping tent that looks like a palace, to use with your family or friends, this Wenzel Mammoth 16-Person Family Dome Camping Tent is the best option for you. This is an incredibly luxurious structure with all rooms having their own doors and windows, and the price is simply unbelievable. I have included it in my list of best 16 person camping tents.
But do not put it to serious tests, this is a tent for occasional use and for calm summer weather conditions. I have included it in my list of extra large family camping tents. If you want something smaller from this brand, please check their Wenzel Kodiak 9 Person Tent which is built as a cabin tent with 2 cabinets.
Please see how I rate this tent for the parameters used for all other tents here in the site, so you can easily compare:
Wenzel Mammoth 16-Person Family Dome Camping Tent
Reliability & protection
7.0/10
Comfort & features
9.4/10
Pros
Very pleasant and livable.
Great packed size.
Separate rooms.
Separate entrances.
Great warranty.
Unbelievable price.
Cons
Too small for the declared capacity.
No floor vents.
Fiberglass poles.
For summer camping only.
If you need something different please check the alternatives given in the comparison table above, and also the tents in the category 11 people plus here in the site. Check this Tahoe Gear Ozark 16 Person tent with the same declared capacity. If you would need a tent with a screen room, please check this Tahoe Gear Carson 14 person tent.
Note that this is not a sponsored text and I am not paid by the manufacturer. Please use the comment box below in the case of questions or comments. Have a nice day.