Teton Sports Sierra 16 Canvas Tent is a 4-season cotton bell camping tent for 8 – 12 people, built from breathable materials and with a removable floor for a canopy configuration.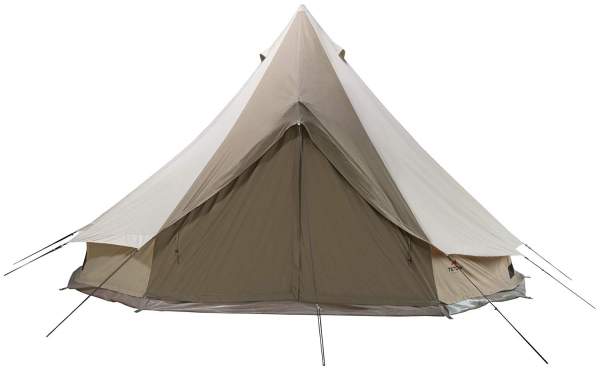 ---
Key features & benefits
Canvas tent.
Breathable.
Single-pole structure.
4 windows.
3 vents.
Completely removable floor.
Canopy configuration.
---
What this is about
The Teton Sports Sierra 16 Canvas Tent is a completely new model on the market. It is in the middle of the series that includes also the Sierra 12 and Sierra 20. The numbers here describe the diameter of the structure (in feet). I presented the Sierra 16 as a representative of the series, they all share the same features.
So what you have here is a circular tent built from a breathable cotton. This is a single-layer type as typical for canvas tents and it is also a single-room structure.
The tent is not freestanding. So to set it up, you have first to stake it to the ground. Only then you will be able to make it standing when you raise its central pole. Note that the structure is 9 ft 5 in (287 cm) high, so I have included it in my list of very tall tents.
---
Who is it for
Capacity-wise, they describe it as a tent for 8 – 12 people. The total area is around 200 ft² (18.6 m²), so if used for 8 people this would give 25 ft² (2.3 m²) and I find this reasonable. In the case of 12 people, this would give 16.7 ft² (1.55 m²) so it would be very difficult to play Tetris with the sleeping pads in such a circular area and accommodate so many people.
But for full comfort and for family camping, this would be fine for parents and 2 – 3 kids. Note that you have no storage area outside, except your car.
Seasons-wise, they describe it as a 4-season tent and this is probably as they say. The structure is with a steep roof that does not keep the snow and it is with many stakes around so it can withstand a lot. The floor is fully waterproof.
Climate-wise, being a canvas tent it is cool in warm-weather camping and it behaves like an insulated tent in a cold environment. Synthetic tents are no match for such a structure in any climate. I have included it in my list of tents for cold weather camping.
Weight-wise, you have a heavy structure here, 74 lb (33.6 kg), and this all is supported by one central pole. You will see in the specifications below that it is rather bulky, so you need lots of space in the car trunk.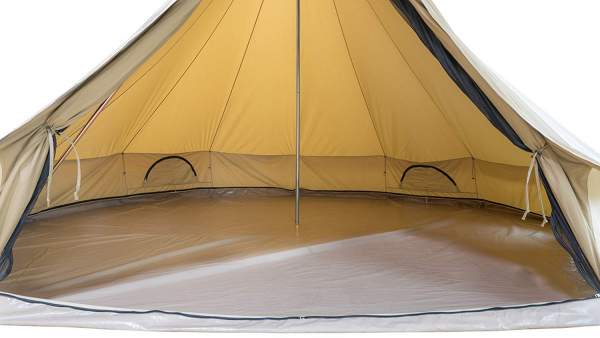 ---
Materials & construction
The fabric
The wall and roof material is 100% cotton canvas. As I mentioned above, it behaves better than synthetic in all weather conditions. But the floor is Super-Duty 19 oz interwoven polymer with sealed seams, and from this side you should never have any issue with the water. So you have the same materials used also in their Mesa tents series.
Such cotton tents need a weathering process and only then they become watertight. When fibers get wet, they expand and this causes the gaps between the weave to shrink. The same holds for the seams, here you have the holes from stitching so the process is longer. So, the tent needs to be soaked totally and then dried totally. It is advisable to do this before you go camping.

The poles
There is one central pole and the whole tent is supported by it. Only the door has a profiled pole which keeps it in position, you can see it in the picture below.
Canopy configuration
You will see this in the video, the floor is attached to the tent with a long zipper, so you can unzip it and remove and use the canopy only for family events in the garden. See how it looks, the floor is still on the ground but it can be taken away: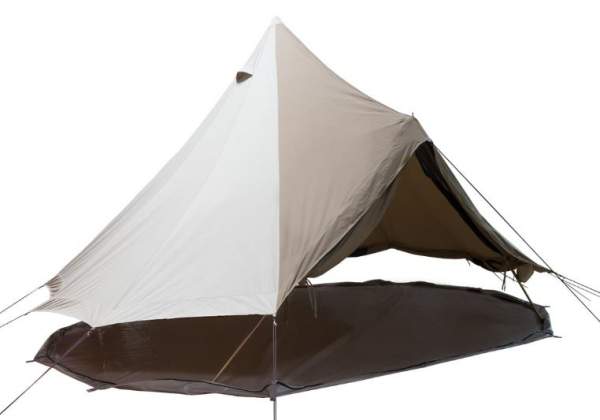 Ventilation
This is a breathable material so ventilation should never be an issue. But they have added 3 vents high on the roof to improve vertical air circulation when needed. The obvious minor issue here is the height of the tent, so you cannot get to the vents when the tent is up. You must deal with them before you set the tent up.
The door & windows
There is only one door here and it is a double layer type, with mesh and the panel. They write about two doors but I see it as one huge double door. The same double-layer structure is on the 4 windows which you have on the vertical walls of the tent, one is shown above. There is a skirt all around and the windows are protected so you will be able to keep them with the mesh most of the time.
Please see more in this video:
---
Specifications
Capacity: 8 – 12 people.
Weight: 74 lb (33.6 kg).
Dimensions: 16 ft diameter (488 cm).
Area: 200 ft² (18.6 m²).
Area per person (for 8 people): 25 ft² (2.3 m²).
Area per person (for 12 people): 16.7 ft² (1.55 m²).
Packed size:
– Tent: 36 x 16 x 9 in (91 x 41 x 23 cm).
– Poles: 36 x 6 x 5 in (91 x 15 x 13 cm).
Peak height: 9 ft 5 in (287 cm).
---
Teton Sports Sierra 16 vs Competitors
The best way to understand the numbers and features of such a tent is to compare it with similar tents. So here I give two built in the same style and from the same material. See how Sierra 16 stands:
36 x 16 x 9
(91 x 41 x 23)
45 x 14 x 14
(114 x 36 x 36)

45 x 12 x 12
(114 x 30 x 30)

---
Final thoughts, rating, pros & cons
So the Teton Sports Sierra 16 Canvas Tent is new on the market but it is very similar to several existing tents, you have seen some in the comparison table above. The series includes three sizes and this tent is in the middle.
The canopy configuration and its simple setup makes it a versatile design, but bear in mind the weight and its packed size. Such a breathable structure and thick material create a cool atmosphere so for camping in dry areas it is hard to imagine something better. The tent is added to my list of best canvas bell tents.
It is expensive but this is a quality tent and a huge structure. So far on Amazon, it has scored a great rating by customers. See how I rate it:
Teton Sports Sierra 16 Canvas Tent
Pros
Quality craftsmanship.
Breathable materials.
Very pleasant interior.
Full protection.
Vents are available.
Canopy configuration.
Cons
Heavy.
Expensive.
No storage elements.
Single room design.
BEST PLACEs TO BUY:
They also have a cabin-style Mesa series and it is built in several sizes so have a look. You might want to check also this DANCHEL Cotton Bell Tent with Two Stove Jackets which is ready for a wood stove and the same design is in this White Duck Outdoors Avalon Canvas Bell Tent.
But if you need something different, just look around, this site is all about family camping tents. You might want to check also this canvas Springbar Highline 8 Tent which is a quite different construction designed for all seasons and for all climates.
Do you have any experience with such tents? If so please let us know, there is a comment box below. I wish you a nice day.