Ozark Trail 15 person instant tent with 3 rooms is a summer camping family tent which offers more than 23 m² of the floor area. So this is a luxurious camping option with a very affordable price.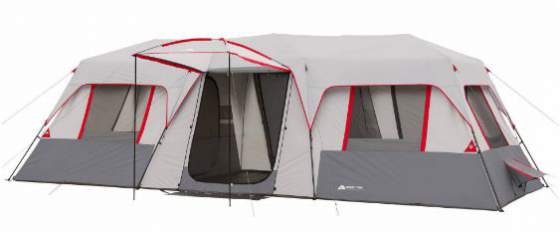 ---
Key feature & benefits
Instant setup, in 2 minutes, who would say for such a giant.
3 separate rooms with sewn-in dividing walls.
2 double-wide external doors.
2 inner doors.
Awning included.
6 + 2 huge wind0ws.
2 floor vents.
Great price.
2 electric cord ports.
Numerous storage pockets.

---
What type tent is this
Here you have a huge structure with dimensions of 25 x 10 ft (7.62 x 3.05 m), yet this giant can be set up in under 2 minutes. So this is a typical instant tent with the frame pre-attached to the tent, and you just unfold the package and extend it telescopic legs.
The tent is also cabin style with straightened and steep walls, and with the peak height of 84 inches (213 cm). So this is a family camping tent at its best, with huge walls and dual external doors.
Yet another essential feature is that the tent is freestanding, as typical for instant tents, so in principle, you can pitch it on any terrain. But I would always find a place to stake it down, you have stakes and guylines included.
Color options & versions
The tent is available in at least three color combinations and in two slightly different versions which you can see in the pictures here, but there are no differences in the most important features and functionality. You will see it also under the name Ozark Trail 15-Person Split Plan Instant Cabin Tent. So do not be confused with the terminology.
---
Who is it for
Capacity & floor area
Spacewise, this tent offers 250 square feet (23.2 m²) of the floor area. This is formally 1.55 m² per person so it can definitely accommodate the declared number of 15 people for sleeping on the floor, see the picture below. But the tent is without external storage space, and with so many people, this could work only at some summer festivals without lots of equipment and clothing.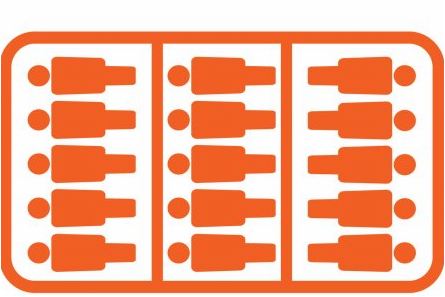 For real group camping, you can reduce this by half. For family camping, this is a tent for parents and up to 5 kids.
The tent can also be used by two couples because it has two completely separated side rooms divided from the central room by two real walls that are sewn in. I have included this tent in my list of extra large family camping tents.
It is typical for such tents that the declared number of users is almost always too optimistic and unrealistic. But there are great exceptions, like this Crua Loj 6 insulated tent. I am mentioning it on purpose because it is a 6-person tent yet it offers 235 ft² (22 m²) of the floor area plus a porch area of 65 ft² (6 m²). So you realize that Ozark Trail 15 tent offers less total space for 15 people, although its dimensions are really impressive.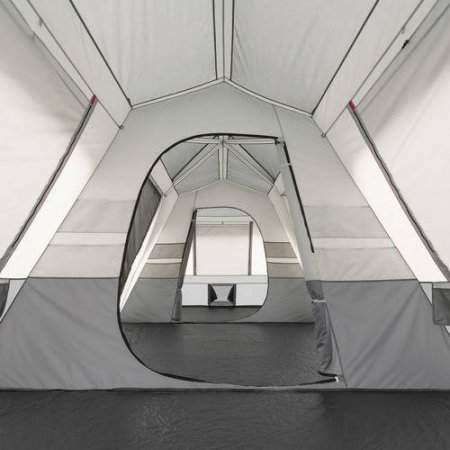 There are statements about 5 queen size beds used in this tent, and I do not think this is a serious statement. You can use them two for sure in the two side rooms and this is it. If you add the third in the central room, then it will become impossible to get in and out so don't even think about this.
But you can use bunk cots instead, and this might considerably increase livability and the number of occupants. These high and straightened walls are perfect for cots in general and for bunk cots as well.
For how many seasons
This is a 1 – 1.5 seasons tent, essentially a summer camping type tent to be used in mild conditions and without much rain. So don't be fooled by statements which you can see at some places that this is a tent for all seasons, it is not.
The structure is very high and boxy, an object with the total area of some 16 square meters when looked from the side, and it would not last long in a strong wind. But one of its sides is relatively narrow, around 3 meters, so position the tent properly if possible, to avoid the wind pressure on its larger side.
Also, with so much mesh on the ceiling, this structure doesn't preserve warmth so use it in a relatively warm environment. If you need something for a cooler environment check the tent mentioned above, the Crua Loj or some less expensive tents like the Nemo Wagontop 6 or Big Agnes Flying Diamond 6. Yes, I know these tents are smaller but they are for more challenging weather situations.
Instant features
In view of its instant setup, this tent is particularly suitable for people who change their camping place frequently. So if you are on a cross-country tour with your friends or your family, this is a tent to consider.
---
Construction and materials
They do not provide much info about materials used here, it is polyester for sure. The fly is minimal and it covers only the ceiling, and the fly seams are taped. There is no information about waterproofness rating.
All the windows and the doors are with mesh and waterproof panels so you will use them for protection and for privacy. The tent is with two large doors in the central room, one on each side, and they have mesh windows plus panels. The main door allows for a large awning setup. You have two extra poles included in the package for this purpose only. The side rooms are with 3 large windows each, one on each side, so you have a home feeling in this tent.
The poles are steel and telescopic, and the tent comes packed in a nicely designed bag with wheels. Note that you have several attachment elements and hooks on the ceiling.

3 separate rooms
Note that dividers are sewn in, so this is a bug-proof design and they completely close the space between the rooms. The inner doors between the rooms are with mesh plus panel, so you can use any variant, panels for privacy and mesh when you want more airflow and ventilation.
Setup
All is described in the picture below, this is an instant tent and the setup cannot be easier.
Ventilation
You shouldn't have any issues with ventilation because of the following. There are floor vents in the side rooms, and the ceiling is all mesh. So the air circulation is guaranteed all the time. The vents can be kept open all the time.
Pockets
There are many pockets here and their design is slightly different in the two versions. So for the red tent, in the central room, you have dual pockets on eider sides of the inner walls, which means 4 pockets on each inner wall. In the side rooms, you have dual pockets on two walls, so again 4 pockets per room.
Other features
Weight: 65.3 lb (29.6 kg).
Dimensions: 25 x 10 ft (7.62 x 3.05 m).
Floor area: 250 ft² (23.2 m²).
Area per person: 16.7 ft² (1.55 m²).
Height: 84 in (213 cm).
Packed size: 51 x 13 x 12 in (130 x 33 x 30 cm).
Carry bag included, see the picture.
Tent stakes included.
2 electrical cord ports.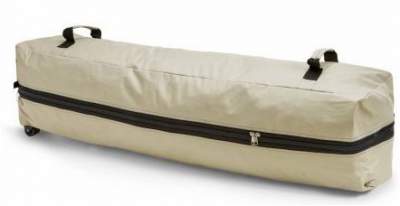 I must say, it is disappointing to see all incorrect or missing information about essential features, so the manufacturers and sellers have done a very bad job here.

---
Ozark Trail 15-person split plan instant cabin tent vs competitors
Here is the Ozark Trail 15 side by side with some other giants that are currently on the market, see how it compares. Please follow the links to read more.
---
Final thoughts, rating, pros & cons
So this was my Ozark Trail 15 person instant tent review, as you realize this is an impressive and very livable tent, and the price tag is truly great. Use it as I suggest above and avoid harsh weather situations and you will enjoy it. But if this is still not what you want, please look around, there are many family camping tents presented here, in all sizes and designs. See how I rate this tent.
Ozark Trail 15 Person Instant Tent With 3 Rooms
You might want to check this huge Ozark Trail 16-person tent with 20 square meters of the inner area, and if this is not big enough check this Ozark Trail 20 person tent. Please see also this 3-room Wenzel Mammoth 16-Person Family Dome Camping Tent.
Thank you for reading. In the case of questions or comments please use the comment box below. I wish you a nice day.

---