Eurohike Rydal 600 Family Tent is a very affordable family camping tent with 3 separate rooms, dark rest design, a tunnel type structure with a very easy setup. It provides 181 ft² (16.81 m²) of the area for 6 people.
---
Key features and benefits
3 rooms.
Huge area.
Tall tent.
PVC windows.
Dark rest design.
---
What type of tent is this
The Rydal 600 is a tunnel-type tent designed with 3 rooms that can accommodate up to 6 people. So this is an elongated structure with three arches/poles of different size and the setup is very easy, as typical for tunnel type tents, see the floor plan below.
The tent is a combination of a single and double layer. The sleeping area is a tent within the external shell tent, and the living area is a single layer structure. This is good because you have a double layer where it matters most.
Note that the tent is not freestanding, but this is again a part of its tunnel design. I should add here that they have yet another tent in this series, the Rydal 500 reviewed here in the site.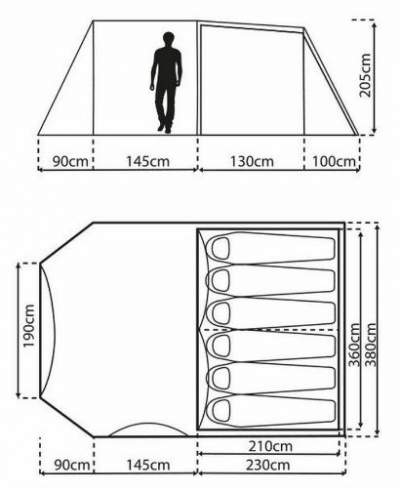 Note that this is a dark rest design, with the sleeping area built from a darker material to reduce glare, see the picture below. The PVC windows are also with blinds for the same purpose and for privacy.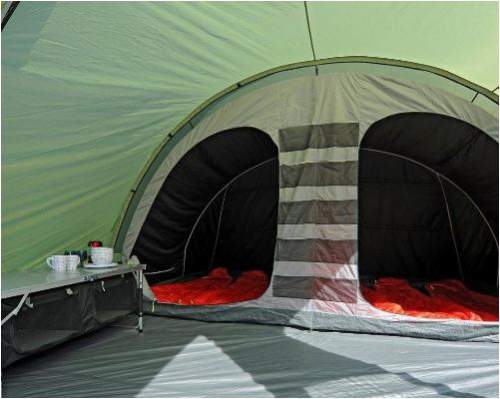 ---
Who is it for
In view of its declared capacity and the area which is 181 ft² (16.8 m²), you have 30.2 ft² (2.8 m²) per person. So this is very generous for 6 people and this tent is a luxurious option for family camping. But the floor plan above shows that the two sleeping rooms are quite narrow for 6 people although you have indeed enough place for 6 pads on the floor.
In the case of families, this is a tent for parents with 2 or maximum 3 kids. The tent is also great for couples because of the separate sleeping areas. Note that the living area is also fully sealed so a few people can sleep there as well; you have 8 square meters of the area in that part alone.
The tent is suitable for a 3-season use, in my view it is best suited for a cooler environment. The reason for this is the fact that it is with PVC windows and there is no mesh on the ceiling. Such a structure keeps the warmth well but it can become too warm in a sunny and warm climate.
The tent is heavy, 36.38 lb (16.5 kg), but it packs well to 29.1 x 13.4 inches (74 x 34 cm). So it is for places with a motorized access.
---
Overview of the remaining features
Fabric
The shell fabric is polyester with 2000 mm waterproof rating. The floor is fully sewn-in and sealed, and the inner rooms are with their additional floor so you have two layers in that area. Seams are taped throughout the shell and the floor. This all is good enough for normal weather conditions in a 3-season use.
The inner tent is a breathable polyester and you also have a divider with toggles which gives some privacy and separates a bit the two sleeping areas. This fabric is dark for reduced glare, so the tent is in the group of dark rest tents. These are all fully fire retardant materials and tested to the European EN 5912 safety standard.
Note that this structure is put up in one go, so you do not set the inner and outer tents separately; the inner is preattached, but it is removable. The setup is really easy with such a design and with the simple poles structure.
Poles
The poles are fiberglass, so this is not a particularly strong material which needs some care. You have color coding for an easy pitching, and all three poles are of different length.
The doors and windows
Everything here is double, so you have dual entry doors, dual inner doors, and dual PVC windows. The entry doors are exceptionally wide, 190 and 145 centimeters, but they are without mesh; though you have the mesh on the inner doors so the sleeping area is completely safe from insects.
The PVC windows are with flaps from inside, you only have toggles so there are no many options to chose at what height to position them.
Ventilation
There are both high and low vents, in total five of them, so the ventilation should be fine and you should have lots of air flow. The back vent in the sleeping area is very large and it is matched with the inner mesh opening so it acts as a window as well, and it can stay open all the time.
Storage and other elements
There are plenty of pockets around. A large organizer is visible in the pictures above, with 10 pockets in five levels. Yet another set of pockets is above the floor in the living room, and some pockets are available in the sleeping rooms as well.
There is a zippered electric cable port, and the Velcro tabs are in place to pass the cable to the apex. Lantern hanging points are available in all rooms.
Please see more in this video:
---
Specifications
Type: tunnel tent, non-freestanding.
Capacity: 6 people.
Weight: 36.38 lb (16.5 kg).
Dimensions (L x W): 15.26 x 12.47 ft (465 x 380 cm).
Area: 181 ft² (16.81 m²).
Area per person: 30.17 ft² (2.8 m²).
Peak height: 80.7 in (205 cm).
Packed size (L x D): 29.1 x 13.4 in (74 x 34 cm).
---
Final thoughts
Eurohike Rydal 600 Family Tent is a budget tent, but as you realize from the text above it is loaded with very good features, and its organization of space is very good. The dark bedrooms environment is something extra here and you cannot miss to notice it. It is tall and you can stand up and walk in every part of it. This is a great tent for family camping, with plenty of space.
There are several more tents from this brand presented here in the site. So have a look in their Hampton 6, Buckingham 6 and Buckingham 8, and also the Buckingham Elite 6. They all are built in a similar tunnel style, so the setup is easy, but there are big differences in features, so please follow the links to see more.

For UK & EU visitors, to check the price or to order this tent, please check here.
I have included this tent in my list of tents with 3 sleeping rooms, so have a look there if you are in search of such tents. You will see in the list also this Vango Omega 500XL Tent with its 5000 mm waterproof rating. If you want something of the dome shape, please check this new 2018 redesigned Marmot Halo 6 tent. In the case of questions or comments, please use the comment box below. Have a nice day.