---
Mountain Hardwear Stronghold 10 Person Tent is a fully freestanding double layer strong dome structure supported by 15 poles, designed for harshest winter conditions and expeditions.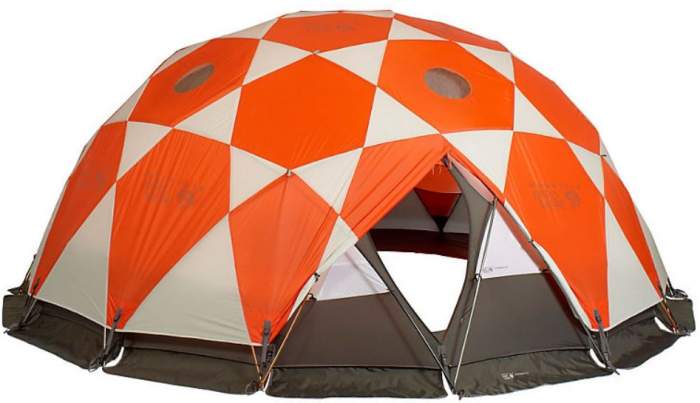 ---
Key features
Freestanding structure.
Full cover fly.
15 Top-quality DAC aluminum poles.
Very strong and stable construction.
Very tall tent.
---
What type of a tent is this
The manufacturer describes this Stronghold 10 as an expedition tent. Perhaps it would be more appropriate to call it a shelter rather than a tent because this is a floorless design, with an optional floor that can be ordered separately. So if you do not want crawling insects inside, or you want to have a completely sealed floor against groundwater, better choose something else like this Marmot Lair 8 tent.
But this tent is designed for extreme conditions where you would not have many of such creatures in any case, and you would use it mostly on a frozen ground or rock.
This is a fully freestanding construction and even after you clip the fly you can still move it and rotate. So this is two-layer design and I have included it in my list of tents with full flies.
As you realize from the pictures, this is almost a hemisphere with numerous poles that make it very strong and stable, so this is a great example of dome-type tents. The picture below shows the tent without the fly so you get the idea of how the poles work together to make it so stable. Note that the structure is with a stand-up height, the peak is 77 inches (196 cm).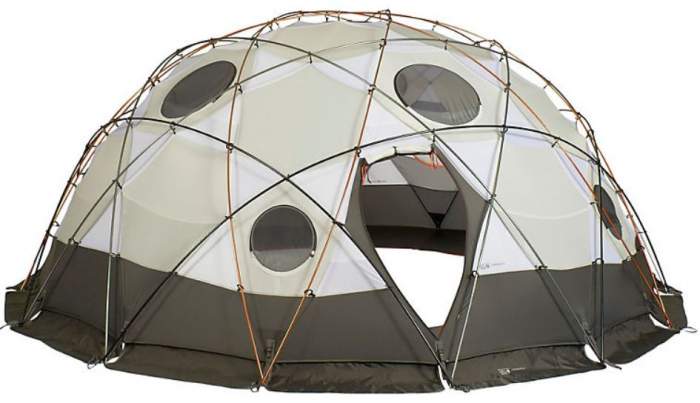 ---
Who is it for
Capacity-wise, the tent is with the declared capacity of 10 people. So let's see how much space it really offers. The picture below shows you the main dimensions and the floor plan. So the area is 171 ft² (15.9 m²) and in the case of 10 users this would give around 17 ft² (1.6 m²) per person. This looks good enough but note that there are no vestibules or any other storage area, so it is best to downgrade the number of users to 5 – 6 maximum.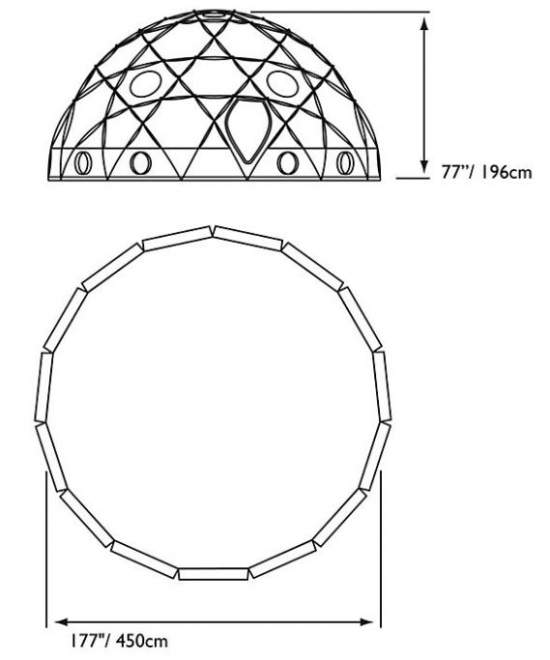 Climate-wise & seasons-wise, such a structure is able to withstand the strongest winds and lots of snow on the roof. So if this is what you need, you have the right tent here. There are two sets of windows at two different heights, with mesh and panels, so you can regulate the airflow.
The waterproof rating is good and you have a full fly, so you should have complete protection, except from the groundwater. I know that some order the footprint and glue it to the skirt which you have there.
So this is a winter tent and I have included in the list of cold weather tents for camping, but it could also be used in late autumn and early spring as well. This is not a 4-season tent as some describe it.
Weight-wise, the tent weighs 48 lb 12 oz (22.06 kg), this may look a lot, but you will see how this compares with some similar tents, there is a comparison table below. You will see that this is a normal weight for such a tent.
The packed size is 36 x 18 inches (91 x 46 cm) and this is again quite normal for a tent with so many poles and such a size, see the comparison table below.
---
Materials
The poles
There are 15 of them and those are DAC Pressfit poles. They create tens of intersections and this is why the structure is so strong.
The fabric
The fly is 70D nylon taffeta with a 1500 mm waterproof rating achieved by a PU/SIL coating. The canopy is 40D nylon ripstop DWR, and the optional floor (not included) is 70D nylon 190T taffeta with 10000 mm Ether Type PU coating.
There is an internal perimeter skirt that provides a base to seal the tent with an optional footprint. The tent is also with perimeter snow flaps visible in the pictures. 
I could not find any information about fire-retardant materials, but I know that this brand has stopped using them in their tents. You can read more here.
Other features
2 Dual canopy and mesh doors.
SVX windows for a brighter interior and visibility of exterior conditions.
Mesh and canopy zippered thru-vent allows ventilation and view through the fly window.
Color code webbing at stakeout points.
Reflective color-coded starter tab on the rainfly and canopy.
Numerous internal pockets to keep you organized.
Reflective guy-out loops and zipper pulls are easy to see at night.
O-rings at pole intersections for internal guy system.
Rugged duffle bag included.
Guyout lines and line tensioners included.
Please see how to set this tent up:
---
Specifications
Type: dome tent.
Capacity: 10 people.
Packed weight: 48 lb 12 oz (22.06 kg).
Minimum weight: 42 lb 13 oz (19.38 kg).
Diameter: 177 in (450 cm).
Area: 171 ft² (15.9 m²).
Area per person: 17 ft² (1.6 m²).
Inner height: 77 in (196 cm).
Packed size (L x D): 36 x 18 in (91 x 46 cm).
Number of Poles: 15.
Number of Doors: 2.
---
Mountain Hardwear Stronghold 10 Tent vs Competitors
Actually, there are no similar capacity and similar design tents on the market to compare. So I have decided to show it side by side with two slightly smaller tents that are also top-notch extreme conditions tents. You can get some idea on how it stands.
I would start with the price first, it is almost half the price of the other two tents. But it is also bigger and it is lighter as well, so please follow the links for more.
Vestibules area,
sq ft (sq m)
Mountain Hardwear
Stronghold 10
The North Face
2 Meter Dome 8
---
Summary, rating, pros & cons
So this Mountain Hardwear Stronghold 10 Person Tent is obviously well built and suitable for the harshest conditions. The two layers and such a strong frame make you feel safe in such a tent. But bear in mind that it is a floorless design and even if you add the optional floor, it will not be sealed. This is the part of the design and has to do with the purpose of this tent, when you put it on the snow, you can dig in and have more headroom.
This is a very expensive tent, yet it is still almost twice cheaper than the most expensive tents in this category. Please see how I rate it against the criteria used for all other tents here in the site:
Note that this is not a sponsored text and I am not paid by the brand. If you need more options for cold weather please check my long list with cold weather tents for camping and also the list of best tents for winter camping.
Thank you for reading. Do you have any experience with this tent? If so please share it here, there is a comment box below. Have a nice day.