---
If you are preparing for family camping in some windy areas, you will want to read this text on how to choose the best tent for windy conditions. So keep reading.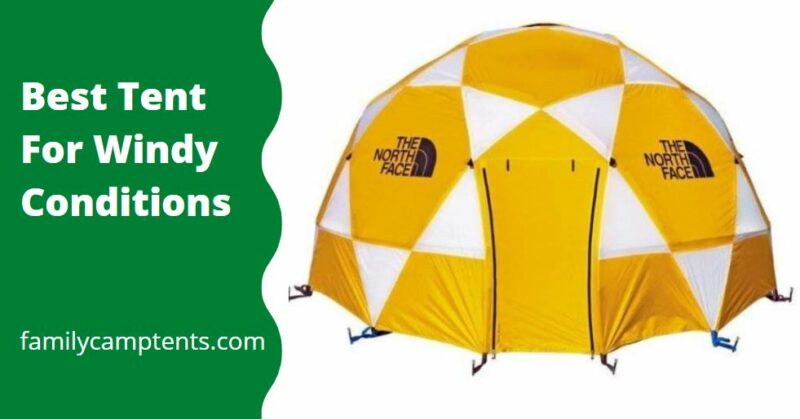 Here are some of the most important features, given in no particular order, that a family camping tent should have to protect you properly in windy conditions:
Aerodynamic profile.
Full-coverage fly.
Closable mesh sections.
Good stakes.
Plenty of guyout lines.
Sewn-in groundsheet.
Solid windows.
Sleeves attachment for poles.
Aluminum poles.
Strong frame with intersecting poles.
Inflatable design.
Of course, it may be difficult to find a tent that would have most of these features included, and such tents may be very expensive. Then try to find one that has at least some of them.
Aerodynamic profile
I am a physicist by profession and fluid motion has been my research field for a number of years. So there is a lot of science in what is described as streamlines and similar stuff. The same physics applies to the wings of an airplane.
But I am sure everybody knows intuitively what this all is about. If you camp in a windy place, you surely wouldn't want a tall and boxy cabin-style tent with a high-positioned minimal fly. Such a structure is a huge obstacle to the wind and it can be destroyed in no time.
Instead, you would rather want something that is low profile, so that air can stream over it smoothly. Want to see some examples? So here they are, the Sierra Designs Nomad 6 Person Tent and MSR Habitude 6-Person Camping Tent:
As you realize from the picture above, this Nomad 6 has a small solid window on the vestibule. This is indeed convenient to have in such a tent with a massive fly so that you can have some views around without opening the vestibule. Many dome tents are available here in the site and you can see some of them in our separate list of best dome camping tents.
Full-coverage fly
Both tents shown above have the fly that goes all the way to the ground. Note that they both have a rather modest inner area, but the vestibules add lots of useful space to store your gear.
These are simple dome tents, but you might want to have something bigger and with more inner space like in this Big Agnes Mad House Mountaineering Tent 6 Person: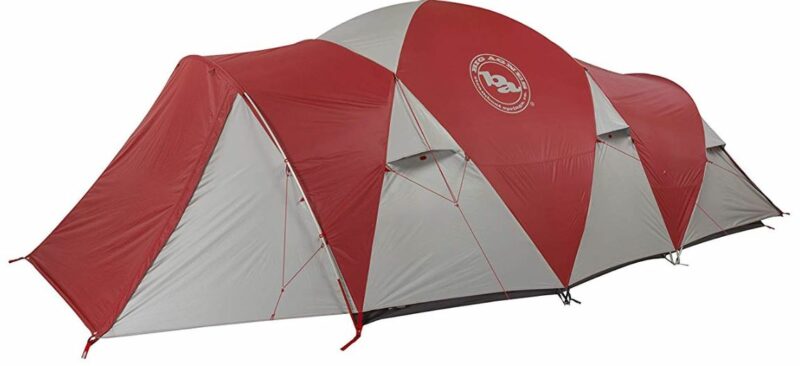 Many more options you will see in our separate list of tents with a full-coverage fly.
Closable mesh areas
What you do not see in the tent shown above is the fact that its mesh sections are all closable. So here is the same tent shown without the fly: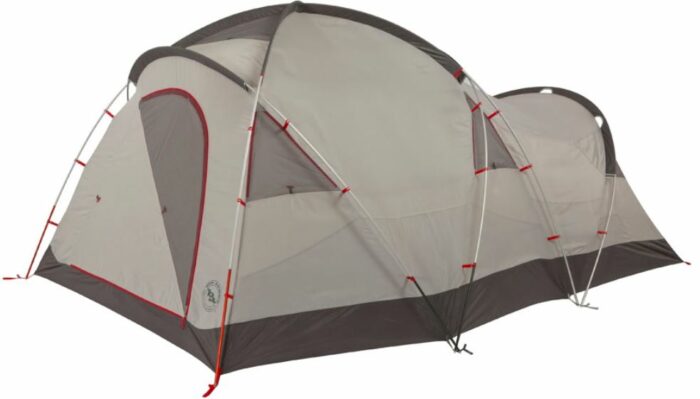 You see those triangular shapes on the inner canopy? These are all double-layer structures with mesh for ventilation and with inner zippered panels. Also, the inner tent itself is all a taffeta. So this is a tent where you can feel much warmer than in a standard tent, you will close those ventilation areas if it is very cold and very windy outside.
Good stakes
Most of the budget tents come with some simple J-shaped stakes. If you expect severe winds, you might consider replacing them with some stakes that are proved to keep the tent fixed to the ground much better. The picture below shows one type that I use with one of my takes, those are general purpose stakes with a Y-shape profile in the cross-section, that work great in all types of ground.
Apart from the stakes' shape, it is important that the tent is designed with enough anchor points. Having the stakes in the corners only may not be enough.
Plenty of guyout lines
Have a look again at the Big Agnes Mad House 6 tent shown above to see what a good design of guylines should imply. It has them in two layers, and most of them are split-type with two connecting points on the tent.
Sewn-in groundsheet
We have a separate text here about the types of tents' floors. To minimize drafts, it is best to have it sewn-in and sealed.
Solid windows
Many tunnel-type tents presented here in the site come with solid translucent windows. With such a design you will drastically prevent drafts. Many manufacturers on the EU market build tents with such windows, you can see them in the tents by Vango, Outwell, and also in some of the Coleman tents built for the EU market.
Sleeves attachment for poles
I know that some people do not like sleeves, but this is a great design for a tent that is built for winds. You have seen it in the Big Agnes tent shown above. With such a design pressure is continuously distributed along the sleeve and along the pole.
This is not so if you have clips that are at distinct positions. Under sudden wind's pressure, poles can snap at such places.
Aluminum poles
Aluminum is a great material for family camping tents. But this may not be enough, so choose the best. DAC is one of just a couple of brands best-known globally. So do not think twice if you have a chance to buy a tent with their poles.
Strong system with intersecting poles
The rule is simple, the more intersections the stronger the frame. You can see one great example in this Marmot Lair 8 tent (shown without the fly):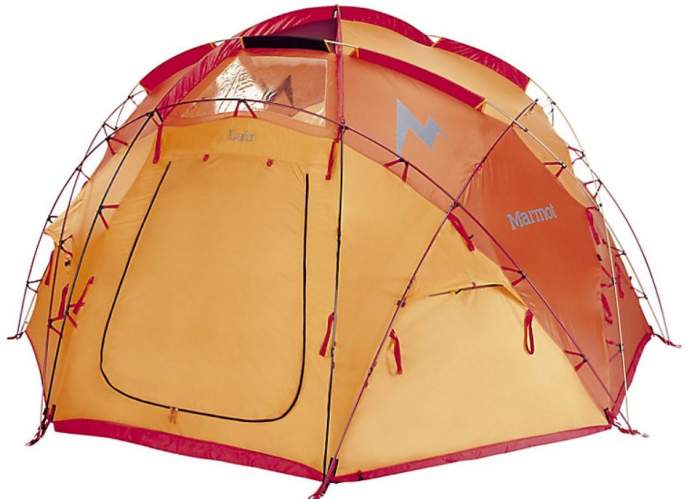 But see also this The North Face 2-Meter Dome 8 person tent shown without the fly, this is an incredibly strong construction with many intersections and sleeves mentioned above: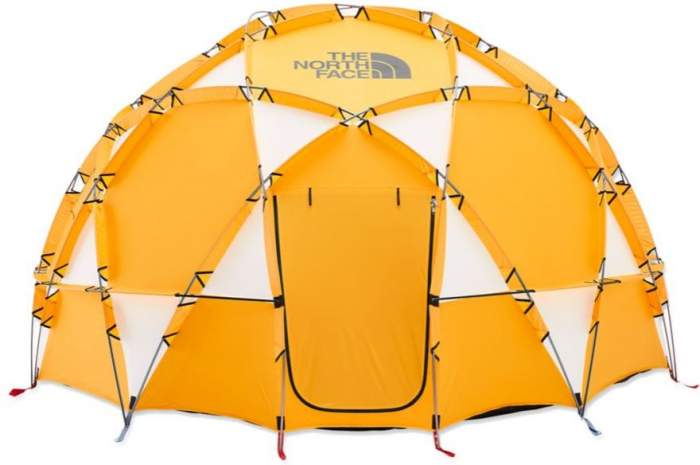 Inflatable tents
This is something very specific and if you have such a tent then you do not have to think about sleeves and intersections of poles. The main reason why inflatable tents are great for windy situations is that air beams can never break. They will give way and bend under the wind's pressure, but they will get back to their shape instantly when the wind pressure drops. Here is one great example, the Crua Core 6 tent which is also a dome-shaped tent: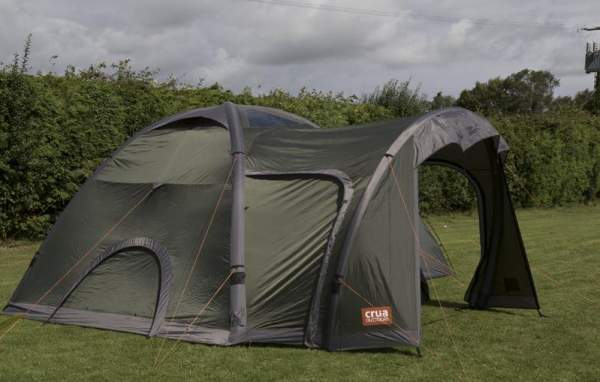 What is the ideal shape of a tent for windy conditions?
Well, if you have to choose from what is available on the market, there is no doubt this is a half-sphere or anything similar to that shape. Most of the dome tents presented here in the site are close to such a profile. You can see it in this great example already mentioned above, The North Face 2-Meter Dome 8 person tent: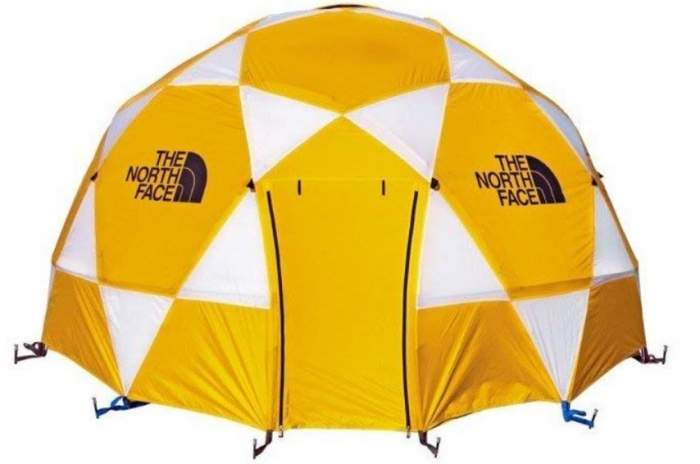 ---
So, this was my thinking about the best tent for windy conditions, please let me know if you think I have missed mentioning something important, there is a comment box below. You might want to read also our separate text on how to choose a family camping tent and about  fiberglass tent poles replacement. Thank you for reading and have a nice day.