Tents are usually packed with features and it may be difficult to decide about what essential and what non-essential is. So keep reading, this text will give you some answers on how to choose a family camping tent.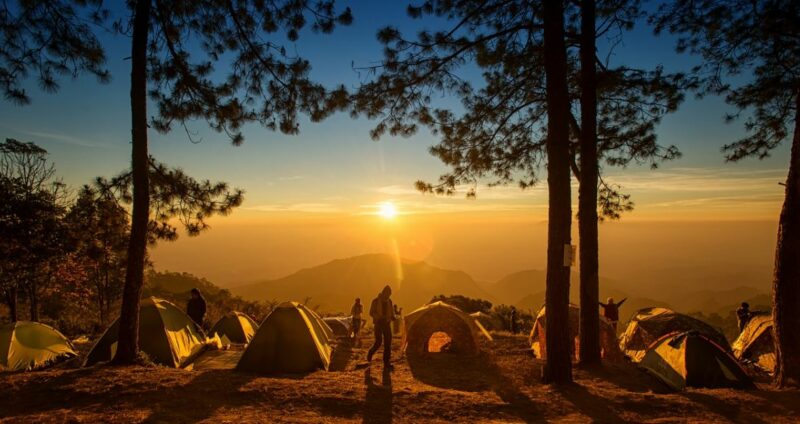 When I mentioned essential features, it is important to know that many of them are not essential in an absolute sense. A tent is a shelter and it is there to protect you:
From the elements.
From insects and snakes.
So this is essential. Everything else may or may not be essential, this will depend on the environment and activity. But if you think a bit about this, you will realize that features essential for camping in the Scottish mountains may not at all be so essential in the Arizona camping sites.
All in all, you can approach this issue of choosing a family camping tent in various ways, but I would suggest that you consider the following basic criteria, given in no particular order:
Ease of use & mobility.
Capacity & comfort.
Tent's suitability for seasons & climates.
It is important to realize that this is always a sort of trade-off, and you have to prioritize. There is no one perfect tent for just every situation.
---
Ease of use & mobility
If you are on a cross country tour and you know you will be changing the camping place frequently, then you will want to have a tent that is easy to set up and also easy to dismantle. For this, it is best to think about the so-called instant tents. There are at least two different types here:
Instant tents with pre-attached frames. This means you pack the tent and the frame together, they are permanently connected and you can have such a tent ready in a minute. The frame is with telescopic poles or with folding poles.
Instant popup tents. This is also a type with a pre-attached frame of a particular type. Such a tent you simply throw in the air and its sewn-in spring poles open it instantly. All you have to do extra is to stake it and secure it properly. Want to see an example? Check this Ayamaya tent.
But if you are going to spend a lot of time in the same place, then it may be worth effort to use a tent that suits you best even if the setup is somewhat complicated.
The term 'mobility' implies the mentioned ease of setup but also features like weight and packed size. For example, instant tents are almost always long when packed, and some of them also tend to be heavy because of their telescopic poles.
Namely, such poles always have some overlapping parts with a pop-out button that locks the two interconnected poles in place, and this adds weight and this also makes them long. So yes, they are very easy to use, but such a tent you will not be able to transport on a motorbike, it is too long when packed.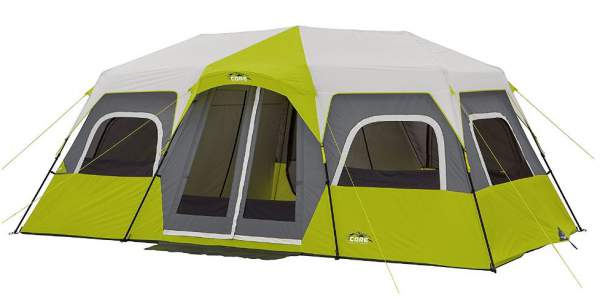 Freestanding tents
This is related to ease of use and I would say a few words about this feature. There is no strict definition of this term and some manufacturers use it inappropriately.
In my view, a freestanding tent is a type that is self-supportive and fully functional even before you stake it to the ground. Cabin style tents are usually in this group, and the Core tent shown in the picture above is the one.
On the other hand, dome tents with a full-coverage fly and vestibules are never freestanding. You have to stake the fly properly in order to have functional vestibules. Tunnel tents are mostly non-freestanding, but there are some great exceptions, see these Ozark Trail 8-Person Dome Tunnel Tent With Full Fly, and Snow Peak Land Lock 6 Person Tent. These tents are fully freestanding.
So freestanding tents are easier to use and this is why I mention this feature here. You can pitch them on any ground, but make no mistake and never miss the chance to stake the tent properly. If the ground is soft and it does not keep the stakes, use some stones, and anchor the tent.
---
Capacity & comfort
It is strange that most manufacturers determine the capacity of a family camping tent by the number of sleeping pads that can be squeezed on the floor. This is a backpacking principle and it makes no sense for such car camping tents.
Perhaps this is just the matter of tradition similar to what you have in Japan, they measure the size of a room by the number of tatamis that fit its floor.
This backpacking principle is particularly present in the family camping tents built for the US market. This is quite different in the EU where family camping tents practically always have a large living room. So how to know what to do?
Roughly speaking, with the US tents it is best to downgrade the official capacity by half. This will give you a reasonable number of users that fit comfortably in a tent. I have discussed this issue in my separate text about the tent's capacity.
On the other hand, the tents built for the EU market almost always can (if really necessary) accommodate twice more people than what their official capacity tells you. See these Ferrino Meteora 4 Family Tent and Coleman Tent Cook 6 Person as examples.
However, many of these EU tents have been appearing on the US market in the past couple of years, so it is always best to check the actual dimensions of the tent and its floor plan. The picture below shows what you have in this Vango Capri 500 XL tent that has been on Amazon-US for a few years already: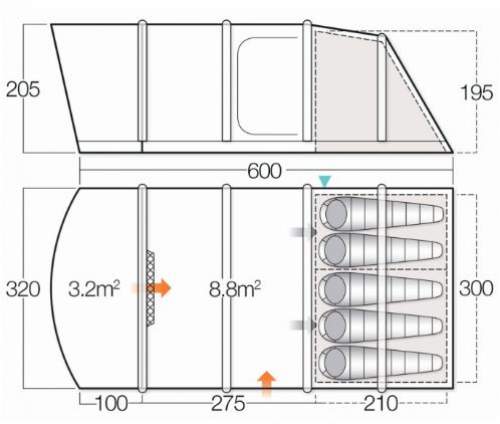 This issue is related to comfort (but there will be more related to this in the text below) and privacy. The picture above shows the area organized into separate rooms, so no doubt you have plenty of space here but perhaps not so much privacy because the rooms are with simple dividers.
Well, there are tents where the inner rooms are completely separated and you have the living room in between, and sometimes these rooms have their own separate doors. Want to see some examples? Check this Ozark Trail Hazel Creek 20-Person Star Tent with Screen Room (shown in the picture below) or something totally different in this Jack Wolfskin Great Divide RT Tent.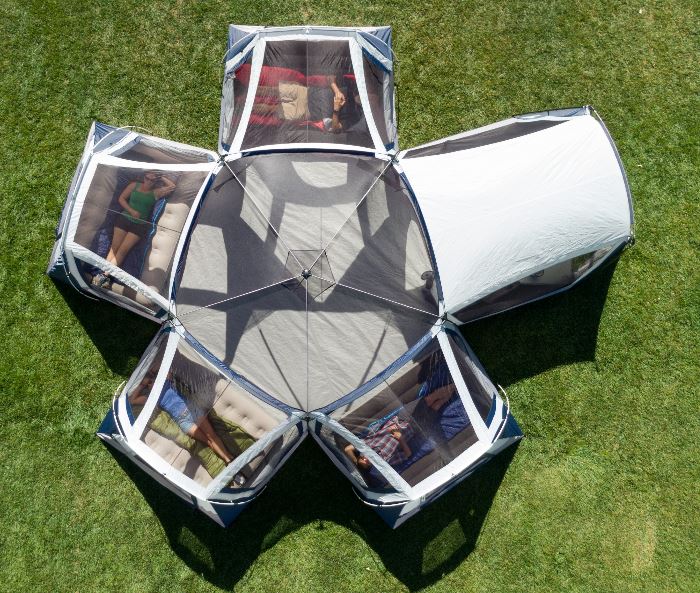 Tent's organization & extra features
This is related to the comfort mentioned above and there is a variety of features worth mentioning here such as:
External and internal doors and their size. The life is easier in the tent with multiple doors, this is not just luxury, it may be necessary. This also improves ventilation. But such doors add weight because of their extra zippers and flaps.
Multiple rooms. This is already mentioned above. Did you know that there are tents with 5 rooms on the market?
Vestibules. This you will have in dome tents with a full-coverage fly. They add extra storage areas, but this also means more zippers and wrestling with flaps.
Porches. There are many tunnel tents with such an addition. So this is a partly protected area where you can sit in the shade and use it also for cooking and as a storage space. See this Wildcat Outdoor Gear Lynx 640 Air Inflatable Camping Tent with its great porch area.
Awnings. An awning is always a useful detail, it offers a bit less protection than a vestibule or porch, but you have a pleasant shade for sitting. We have a separate list of tents with such an extra feature so please have a look here.
Inner storage elements. These are smaller storage spaces different from the mentioned vestibules and they include gear lofts, wall pockets, and similar elements.
Integrated light. There are many tents on the market now with such a feature, you can see them in our list of lighted tents.
Insect & snake protection
There are two separate issues here, i) the mesh on the openings (windows, doors, ceilings) and ii) floors design. The issue of mesh is related to insects, both flying and crawling. The issue of floors deals with crawling insects, snakes, and also with groundwater protection.
Tents normally come with sewn-in and sealed floors. There are some exceptions with tunnel tents where you can have the shell tent that covers one or more inner tents. Now, these inner tents have the usual sealed floors and they offer full protection, but the shell tent may be i) without any floor, ii) with a linked-in floor, and iii) with its own sewn-in and sealed floor.
The last option is obviously the best because the shell itself offers full protection, and the inner tents have yet another floor underneath their already sewn-in and sealed floors. Such great examples you can see in these Vango Ringstead Air Adult Mixed Inflatable Tent, Coleman Tent Cook 6 Person, and in Coleman Da Gama Unisex Outdoor Tunnel Tent shown in the picture: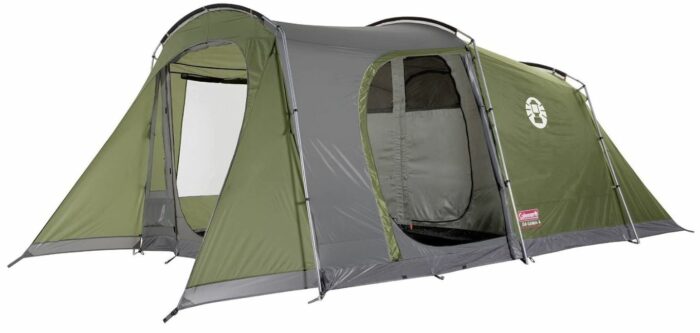 ---
Tent's suitability for seasons & climates
I put this as the last aspect to discuss because it includes a variety of different features and those are related to the essential features mentioned above and the protection that a shelter should offer. But this is also very much related to comfort.
Tent type
If you know you will be in a windy space, then you have to go for an aerodynamic structure, and you will want to avoid very tall tents with boxy constructions, partial-coverage fly, etc. For such an environment the best option is a dome style tent with a full-coverage fly, see one great example in the picture: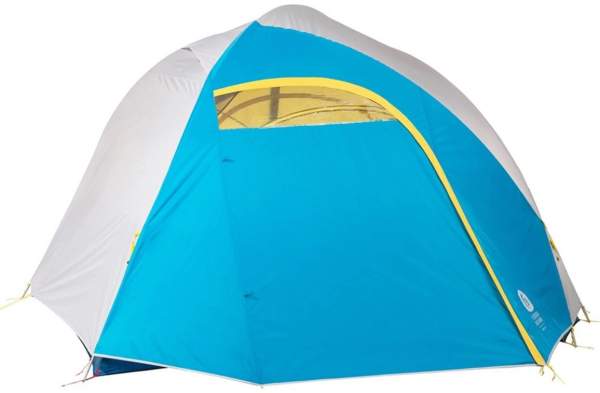 On the other hand, for a warm and calm weather camping, you will want to have a cabin style tent with lots of mesh on the ceiling and a tent with windows.
In a cooler environment, you will want a tent that can be closed to preserve the warmth and to prevent cold drafts. So no worry, you have them many in our long list of tents for cold weather camping. On the other hand, if you plan to heat the tent, check these tents with a stove jack.
All in all, it is important to have the right tent for the environment. So if this is about a warm environment, check my separate text about family tents for hot weather camping. For a windy environment read more here, but if this is about desert camping, see more in my text about best tents for desert camping.
You are not sure what to choose for camping in a wet area with lots of precipitation? Read about this in my separate text with best tents for camping in the rain.
Waterproof rating
There is a huge variety regarding the waterproof rating of the family camping tents, you can have it anywhere between 600 mm (or less) to 5000 mm (or even more). This issue is discussed in detail in my separate text.
The point is that you do not need a high value here, it is more essential that the seams are properly taped and sealed. Think about an ordinary umbrella, it is usually with a rating if 300 – 400 mm and it is enough.
Have you seen Core tents, there are many of them here in the site? Formally, their waterproof rating is quite low, but these are reliable and very popular tents.
Ventilation
There is a lot one could say related to this issue. With the mentioned cabin-type tents you always have a ceiling with mesh, and large windows and doors with mesh. But this all may not be enough in a warm environment, it may be essential to have some floor vents to improve vertical air circulation.
Ventilation is particularly important in the mentioned cold-weather tents. From one side, you want to control cold drafts, but from the other side, you must allow for airflow. Many cold-weather tents are tunnel-type tents and they heavily rely on vents. This Jack Wolfskin Great Divide RT Tent has them 5 in total.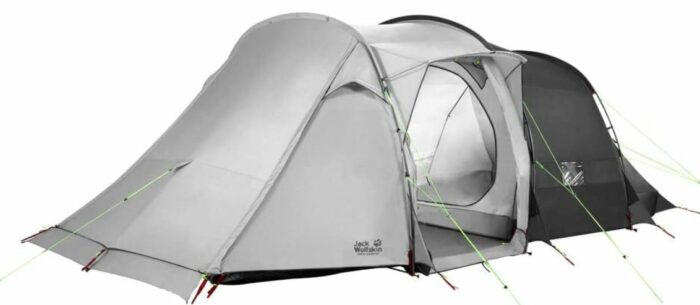 The same holds with the dome tents that come with a full-coverage fly. It is essential to have fly vents that allow vapor to escape, otherwise you will have serious problems with condensation. You can see one great example of this type in the picture below that shows the Big Agnes Mad House Mountaineering Tent 6 Person, it is with a full-fly but you have no less than 6 vents here: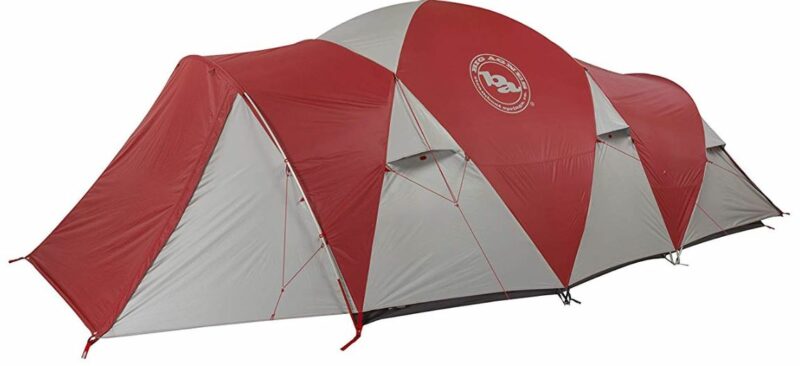 Durability
There are separate texts here in the site addressing this issue, so you can read about the best fabric for tents and also about tent poles. Expensive family camping tents come with aluminum poles and this is the best you can have, but if you are on a budget you might be forced to go for some other type of material, like fiberglass or steel.
Family tents usually come with thick and highly waterproof polyethylene floors. This is a good material for such a purpose, in principle you do not need an extra footprint when you have such a floor. But this is a heavy material. More expensive tents have polyester on the floor, but this material is usually thin and you might want to combine it with a footprint to avoid damages.
Note that there are no many family camping tents on the market with an included footprint so you will have to order such a part separately. But see this Kelty Trail Ridge 8 Tent with its included footprint.
---
So this was my short family camping tents guide, just an introduction to this industry. But I gave above many links to my separate texts where some specific issues are discussed in detail.
There is a huge variety of family camping tents on the market, and within this site, you will see them in hundreds, literally. Regarding the price, you can find them in the range of $100 – $10000, so imagine what kind of variety regarding materials and features you can have.
Therefore, choosing a family camping tent is far from easy, but this is why I am here, so please use the comment box below and get in touch if you need help. Subscribe to my weekly newsletter and stay informed, there is a form below, I never send spam emails, this is all about new tents on the markets and about guides like the one presented here in the text. Thank you for reading and have a nice day.