If you are preparing for a desert camping trip and still haven't decided about the tent, read this text about best tents for desert camping with some great examples.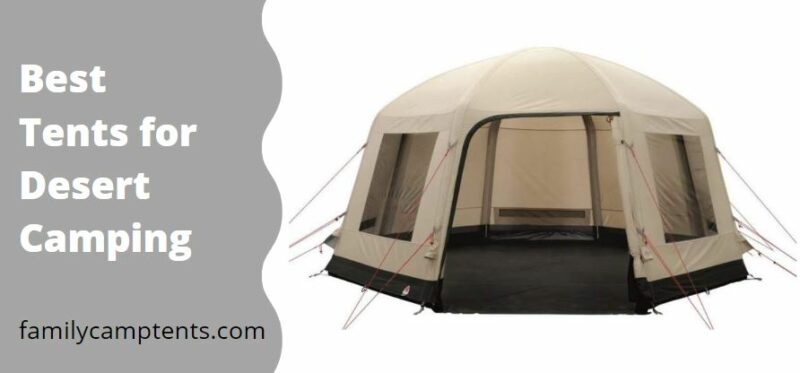 When it comes to camping in the desert my first thought is always canvas tents. The reasons are as follows:
Desert can be both cold and warm. So a canvas tent is the best for both worlds.
Canvas gives a bit of insulation.
Canvas is breathable.
Canvas creates a cool atmosphere in the tent.
But there is a problem: many of the canvas tents on the market are not freestanding. So if the ground is a soft sand, it might not keep the stakes. Canvas tents are heavy and they must be staked properly. The same is if it is rocky terrain. Therefore many great tents that I have in mind cannot be recommended unless you prepare some longer stakes or do some other preparations.
Nevertheless, there are various canvas tents that you can use even on the sand. These are freestanding although they all come with stakes and guylines, so do not miss using them the best you can if the ground is sand, gravel, or rock. Here are some types and examples of such tents:
Dome canvas tents
One great example, in fact the best known to me as of the moment of writing this text, is this Bushtec Adventure Alpha Kilo 4000 Tent with steel poles: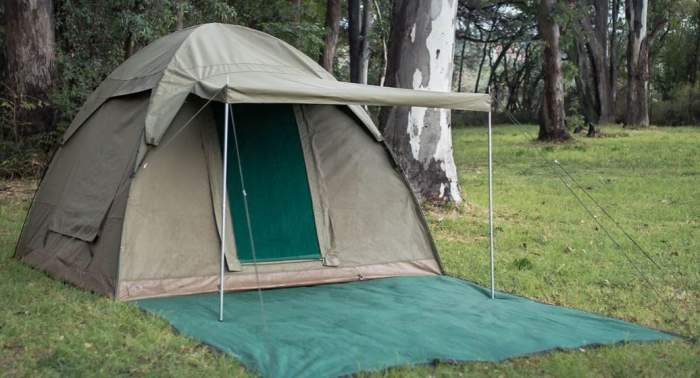 Framed tents
In this case you have a frame that is freestanding itself so you attach the tent to it. Below is one great example, the White Duck Outdoors Alpha Wall Tent 12 x 14.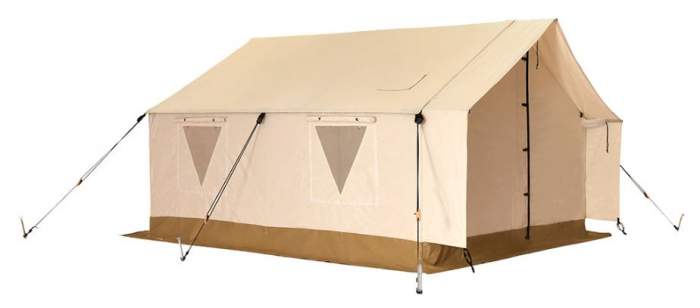 Canvas tents with air beams
This is something special, tents with inflatable beams instead of classic poles. This Robens Aero Yurt 8 Man Airventure Air Tent is an example of this type: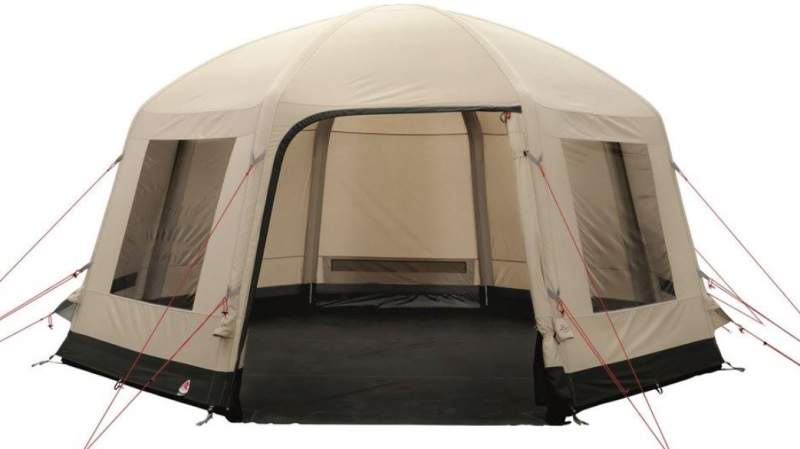 Cabin-style canvas tents
One excellent example of this type is this OzTent 30 Second Expedition Tent RV 5. As its name suggests, this is an instant-setup tent and it is also freestanding: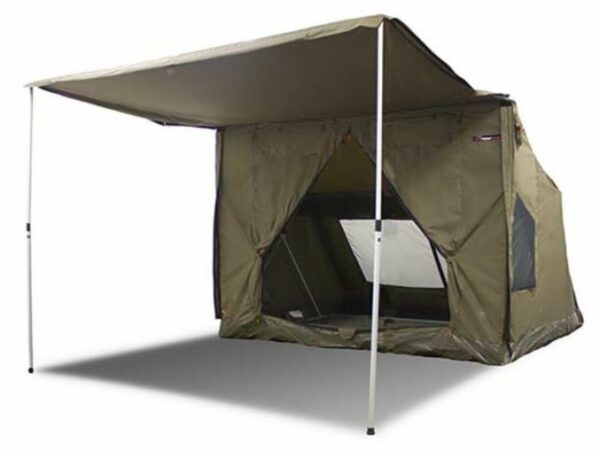 Tipi tents for desert camping
We have a separate list with tipi tents (or teepee tents). These are modern tents with little to do with classic teepees. But there are some of them that are freestanding teepee tents, and here is one, the OZARK Trail 12′ x 12′ Instant Teepee Tent: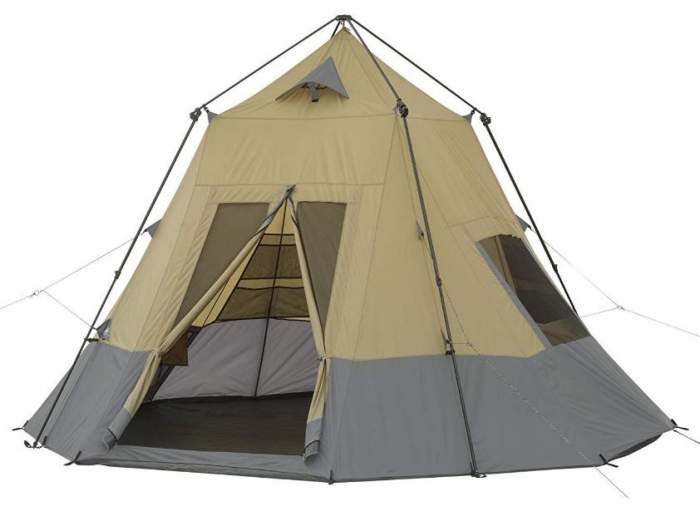 Note that this is not a canvas tent, but this is a great instant tent as the name tells you, with the frame pre-attached to the tent. You will certainly want to stake it down if possible, and stakes and guylines are in the package.
Dark rest tents
Desert areas can be very dry and sunny and if you are going to such an environment check the so-called dark rest tents (also known as dark room tents or lights-out tents). They are built from dark materials and the best models may reduce sunlight up to 99%. In other words, you can have a completely dark tent in the broad daylight.
Some of them are also with closable mesh sections and this may be useful in the case of dust in the air (see below). One typical example of this type is this Ozark Trail 20 x 10 Dark Rest Instant Cabin Tent: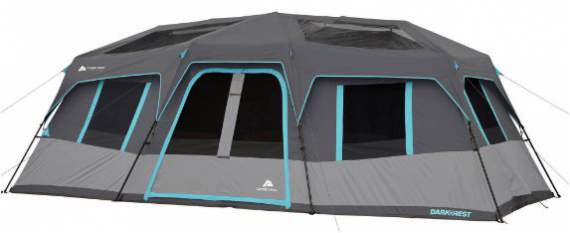 Note that this is a cabin-style tent, and many tents with this dark-rest design are of this type. So they are freestanding but it is necessary to stake them and stabilize a bit. There are smaller examples like this Ozark Trail 6-Person Dark Rest Instant Cabin Tent, so this can be far easier to stabilize.
What if there is lots of sand in the air?
If you expect sand storms, the tents shown above will do the job. But you might also want to consider some tents with solid windows. Such tents normally rely on vents, and those are also closable when necessary.
The problem is that most of the tents on the market with such solid windows are tunnel tents that are not freestanding. So bear this in mind if you decide to use one of them, you must be sure that you can stake them down properly. Though tunnel tents need strong stakes mainly on the front and on the back. The sides are stable in any case, though they need stakes as well.
But I already mentioned those dark-rest tents that can be closed (for a different purpose, i.e., to reduce glare), so this feature may be useful also in the presence of dust.
What else to consider
• Sewn-in floor. Think about snakes, scorpions, and spiders. You do not want them in the tent so make sure that you use a fully enclosed tent with a sewn-in floor, and with a dense mesh on the windows. Keep your stuff inside, you would not want to find some of the mentioned animals in your boots.
• Awning configuration. Such a feature is great to have with any tent. It can be warm in desert areas so having such a detail is a real luxury.
• Vents. Having a good air circulation is particularly important in synthetic tents. Canvas tents are usually breathable but even with such a tent it is great to have floor vents and roof vents.
---
Thank you for reading, I hope you find this text about best tents for desert camping useful. You might want to read also our separate text on how to choose a family camping tent. Let us know if you have some questions or comments, there is a comment box below. If you plan to camp in a windy area check these tips about the best tents for windy conditions.
Note that we add texts regularly, so bookmark this site and stay informed. Subscribe to our weekly newsletter, the subscription form is below. Have a nice day.