Stout Bell Tent 100% Cotton Canvas 4M & 5M is a single pole construction with 4 windows, 1 door, waterproof and breathable, suitable for all seasons.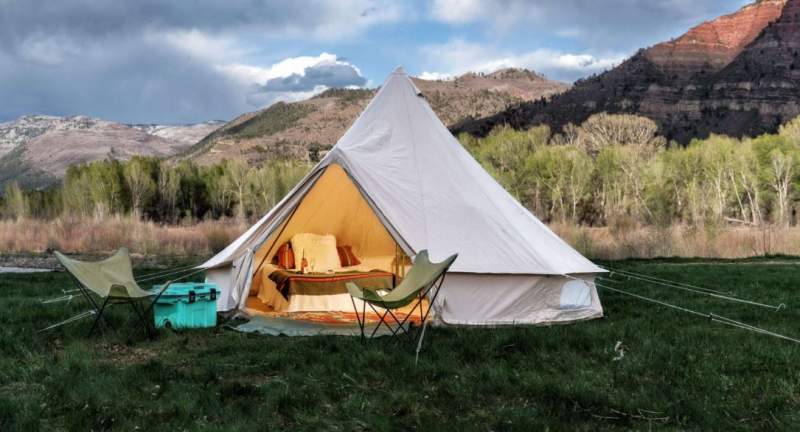 ---
Key features & benefits
Natural cotton canvas.
Breathable fabric.
Waterproof.
Zipped-in groundsheet.
4 Windows.
1 Door.
2 E-cable ports.
Integrated stove jack.
4-Season tent.
---
What this is about
There are several versions of this tent on the market, and they all are available on Amazon at the same place. So regarding the size you have 4 meters (13 ft) and 5 meters (16.4 ft) diameter tents.
There are also:
Pro version. This comes in two sub-variants, without and with the side mesh wall.
Ultimate version.
The differences between the Pro and Ultimate variants are: i) The Pro is a 10.6-oz (340 grams) per square meter cotton canvas, and the ultimate is 8.6-oz cotton canvas. So the Pro tent is stronger and heavier. ii) As mentioned, the Pro tent has two variants regarding the mesh wall.
But from what I have seen on the manufacturer's site, it seems that they also have the Ultimate version with the mesh around, but it is not on Amazon as of the moment of writing this text.
This is an impressive 100% natural cotton canvas tent, with a breathable material yet fully waterproof. In addition to this, the tent is treated with a waterproofing substance so water beads up on the canvas and runs down. I have included it in my list of best canvas camping tents.
The tent is in the group of bell-shaped tents, so you have a single supporting pole, a conical roof, and a vertical circular wall on the sides. There are no rooms inside, so this is a 1-room structure, and you have 1 door as well. Note that this is a double-layer door with bug-netting and with canvas outer layer. There are 4 oval windows on the vertical wall, all double-layer with mesh and canvas, see one below.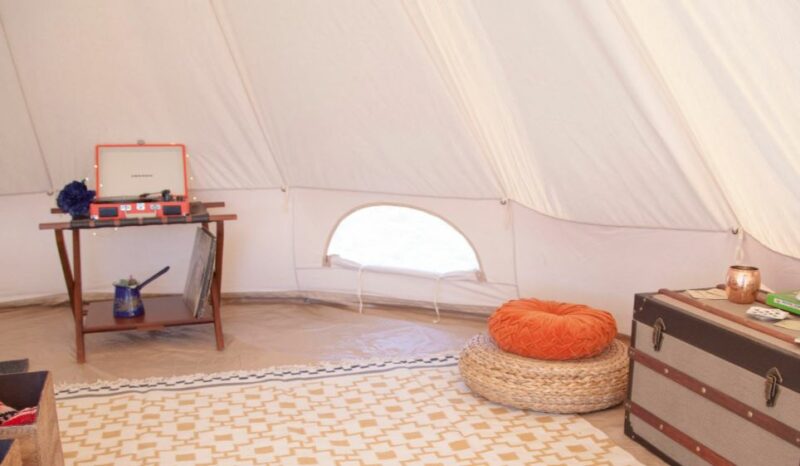 In the Pro version, the mentioned mesh wall is in front of the vertical wall, see the picture below. This canvas wall can be unzipped and fixed to the upper structure with straps and toggles, and you will still have a complete protection from insects. The bug wall can also roll-up. You will see the mesh also in the video below.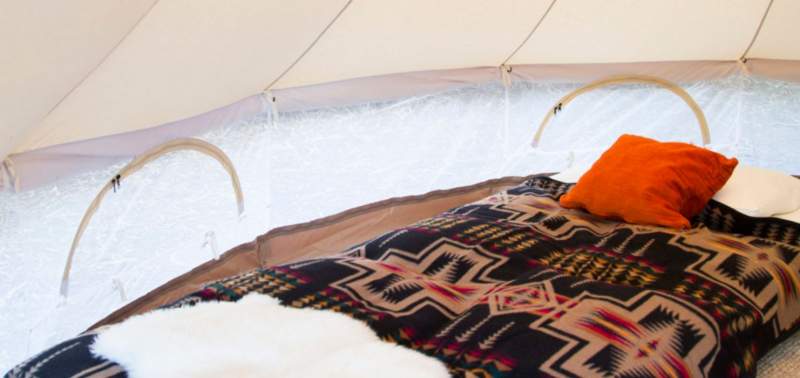 Built-in stove pipe jack
The tent comes ready for using a wood-burning stove inside. So you have a stove jack which allows for 3-6 inches stove pipes. When not in use, it is covered with an 8 x 8 inches canvas cover with Velcro. I have included it in my list of best tents with a stove jack.
The opening is with a high-temp silicone insert with a direct heat rating of 350 degrees, and 500 degrees intermittent heat rating. This design meets CPAI-84 standards.
---
Who is it for
Seasons-wise & climate-wise, quality cotton-canvas tents are closest to what you could describe as true 4-season tents. There are several reasons for this and you have them all here in this Stout Bell Tent.
So in the case of warm weather camping, you have a breathable fabric which also creates a cool atmosphere that you can never have in a synthetic tent. On the other hand, in a cooler environment cotton naturally provides at least some insulation. But as mentioned above, this tent comes ready for a wood stove, so you can use it in the wintertime. I have included it in my list of tents for cold weather camping.
The roof is steep, and such a structure will not accumulate snow, and the pole is exceptionally thick to support any weight you can have here. Note however that such tents are never freestanding, so you have to stake it down properly; only this will keep it up when you raise the pole.
If properly done, cotton canvas tents are also waterproof and this is what you have here. Note also that the floor is a thick plastic material so you are safe from groundwater. They claim that their tents will stand tall in 60 mph winds.
Capacity-wise, this tent is in the range of 6 – 8 people capacity. So you have an area which is close to 211 ft² (19.6 m²), it is a bit smaller because this is not a circular perimeter but more a polygon. So in the case of 8 people, this means up to 26.4 ft² (2.45 m²) per person, quite a luxury. I have included it in my list of best 8-person tents for camping.
Weight-wise, well this is a heavy thing with its 94 lb (43 kg). It is heavier than some of its competitors, you will see in the comparison table below. But such a weight is expected from a canvas tent with so durable fabric.
The packed size is not so impressive, the bundle is rather long, 48 x 16 x 16 inches (122 x 41 x 41 cm), see the picture. So all in all, this is for car camping and you will need some space in the car trunk.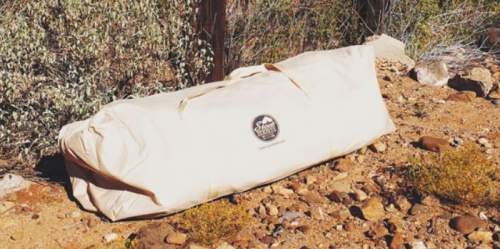 But, in spite of such numbers, one person can set this tent up without problems. It must be staked first and then you raise it with the central pole. Plan some 30 minutes or so if you are doing this alone.
---
A bit more about the materials
The poles
The central pole has 4 segments and its total length is around 10 ft (305 cm) and it weighs around 6 lb (2.7 kg). Not surprising because this is steel. There is also an extra A-shaped frame which supports the door, the height of the door is 66 inches (168 cm) high. In view of its height, I have included it in my list of extra tall tents.
The floor
The floor is a heavy-duty 17.6-oz (596 g) per square meter ripstop PVC, highly waterproof and it zips to the tent. This is a bathtub construction with goes 3.5 inches (9 cm) above the ground.
Other features
Entirely double-stitch sewn. They claim that they have more stitches per inch than other canvas tents.
Pressure points are with several layers of canvas.
Tent comes with sturdy rebar stakes. Rebar is made of an unfinished-steel material, so these are very tough stakes.
The groundsheet is with D-rings, suitable for any stakes you would want.
Extra-high-quality setup components with metal sliders and thick ropes.
Two protected pass-throughs for power cords into the tent.
There are several vents on the top for vertical airflow and circulation.
They use canvas sourced in the USA and do sew repairs and modifications in their public shop in Phoenix, Arizona.
This is a veteran-owned and operated company.
Return policy & warranty
They show confidence in their tents by offering 45 days return period. They also offer a 5-year warranty.
Please see a bit more in this very short video:
---
Specifications
Declared capacity: 8 people.
Weight: 94 lb (43 kg).
Diameter: 16.4 ft (5 m).
Area: up to 211 ft² (19.6 m²).
Area per person: up to 26.4 ft² (2.45 m²).
Peak height: 10 ft (305 cm).
Packed size: 48 x 16 x 16 in (122 x 41 x 41 cm).
---
Stout Bell Tent vs Competitors
There are many canvas camping tents on the market built in the style of this Stout Tent. So I have decided to show you two of them side by side with this tent, this will help in better understanding its features. The Teton Sports Sierra 16 is also a part of a series that includes several sizes. The White Duck Outdoors Avalon Canvas Bell Tent also comes with a stove jack.
As you realize, all are heavy, single-room, tall, and expensive. Only the Stout Tent has the mesh wall, but the White Duck tent has windows all the way around so you do not need a separate mesh layer. Please follow the links to read more.
48 x 16 x 16
(122 x 41 x 41)

45 x 15 x 13
(114 x 38 x 33)

36 x 16 x 9
(91 x 41 x 23)

---
Final thoughts
So this Stout Bell Tent is really well built, 100% cotton canvas and you have two sizes to choose from, with 4 meters and 5 meters diameter. They offer excellent warranty conditions and a very good return policy. It is expensive, but this is nothing unusual for quality canvas tents. This is a reliable brand and top-quality tent, I can fully recommend it.
So far it has scored a great rating by Amazon customers. I have my own set of criteria for rating and I apply them consistently to all tents so you can make an easy comparison. This is the point, compare them instead of just focusing on rating numbers.
Stout Bell Tent 100% Cotton Canvas 4M 5M
Pros
Top-level craftsmanship.
Breathable materials.
Very pleasant interior.
Full protection.
Vents are available.
Excellent warranty.
Cons
Heavy.
Expensive.
No storage elements.
Long when packed.
Please check in the category Canvas Tents if you need more options to consider. You will find all the top brands' tents presented in detail. Check this Dream House Double Layers Waterproof Safari Glamping Tent if you want something very different but with polycotton fabric.
Note that this is not a sponsored text and I am not paid by the manufacturer. Please use the comment box below in the case of questions or comments. Have a nice day.