There are hundreds of family camping tents on the market at any time, and there are naturally many questions that circulate around. Many of them are frequently repeated, and this is why I have made this list of frequently asked questions and answers to have as a reference.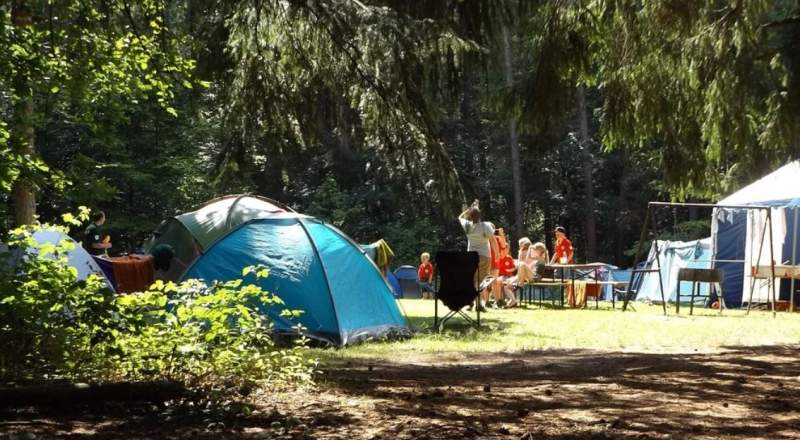 The questions below are not given in any particular order. I use them as they appear on Google and elsewhere, and I give my answers. Sometimes, the meaning of questions is not completely clear, so I have to guess. This is why you might want to comment and correct me if you think that I have missed the point.
What is the easiest family tent to put up?
Family camping tents come in many sizes and shapes, so in answering this question one should consider the official capacity, size, and weight. The term easiest may also depend on the number of people who put the tent up.
But quite generally, there are many instant setup tents here in the site that can be ready in a minute or two. On the other hand, among the largest tents on the market you have the so called inflatable tents or air beam tents. So regardless of their size, one person can set such a tent with ease.
Now, even in this group of air beam tents there are differences. Most of them are with multiple valves, one per a beam, but some are with a clever single valve inflation point. If you want an example, see this Zempire Pronto 5 Tent or the Robens Aero Yurt 8 Man Airventure Air Tent shown in the picture.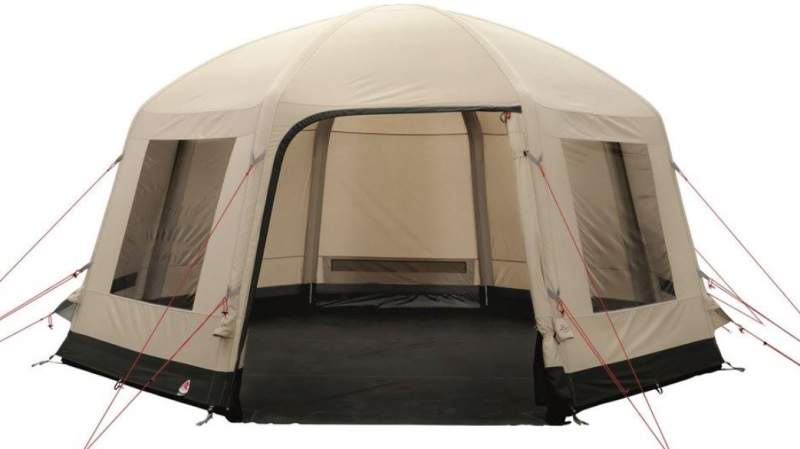 So all in all, if you want a tent that is easy to set up, you should check among the so called instant tents and among the inflatable tents.
But there is a separate group called pop-up tents. They have a frame (poles) inside of the fabric in their own sewn-in sleeves, and the poles are coiled and elastic. So you release the straps and simply throw such a tent in the air, it will pop up by itself. But it may be a bit tricky to fold such a tent. On the other hand, such tents are typically of a small size, for maximum 4-5 people or so.
Are dark room tents worth it?
The short answer is yes, but there is much more to this. If a tent is leaking and you camp in an area with lots of rain, then the answer is no of course. Or if you have a large group in a small tent, then again the answer is no.
But assuming that this is only about the tent's dark rest feature (or lights out feature as it is sometimes described), of course it is great to have it. With dark bedrooms you can sleep longer in the morning if you wish so. On the other hand you can also take a nap during the day, and this is definitely useful if you camp with small kids that need to sleep during the day.
So check in the category Dark Rest Tents here in the site, and see about their other features that may be important to you.
What is the biggest size camping tent?
This question can only have a temporary answer because large tents appear and disappear from the market all the time. So it is difficult to keep a track about them. But I do have a separate list of extra large family camping tents that I update regularly, so have a look and you will not be disappointed.
The example in the picture below is one of them. This Berghaus Telstar 8 Nightfall Air Tent has an inner area of 273.4 ft² (25.4 m²) and the porch is 101.2 ft² (9.4 m²). But there are even larger tents on the market, just to know.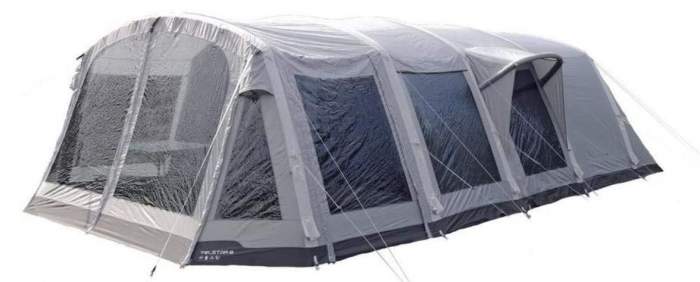 On the other hand, the question about 'the biggest size' is quite ambiguous. Is this about all three dimensions, about floor size, about height?
The list mentioned above is ordered by the floor area. But some tents may have a relatively modest inner floored space, yet they may have a large porch or a screen room. See this incredible Snow Peak Living Lodge L Tent as a great example: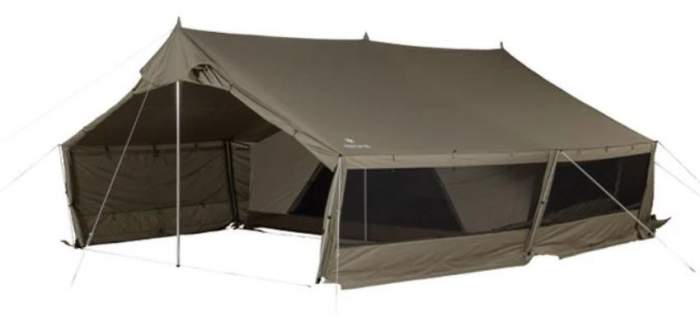 This tent offers 100 ft² (9.3 m²) of the floored area, but the total additional covered space under the porch and the vestibules is around 270 ft² (25 m²).
What is the largest family tent?
This question is already answered above, so there is no need to repeat the answer here.
How big is a family tent?
This question can be answered in various ways. It would be necessary to define what a family tent is, or what a family is. You have seen a few huge tents in the pictures above.
But there are far smaller tents that are still suitable for family camping. You have have a family tent with 7-8 square meters of the floored area, but there are some with more than 20 square meters.
If this is about parents with a kid, this is a family isn't it? Assuming this will be camping close to your car, you can keep some stuff in the car. This means that the actual tent may be relatively small, and without vestibules or a porch.
So have a look in the category Tents for 5/6 People and you will see some that are quite small in size. These are usually dome style tents.
What are the big tents called?
This question is indeed asked but it is far from clear what it really means. I would say that among the biggest family camping tents on the market, you have mostly tunnel shaped tents. There are also quite a number of cabin style tents among them.
What tents are waterproof?
All tents should be waterproof, but the reality is this is not always so. The waterproof rating is usually expressed through millimeters of water column or in terms of hydrostatic head. So the more the better, but you do not really need much. It is important that the seams are properly taped, otherwise the official rating makes no much sense.
In terms of numbers, you can be fine with 800 mm, but there are many tents on the EU market where the rating goes over 5000 mm. So this all depends on the geographic area and climate. The Coleman EU branch has many tents with an impressive waterproof rating. The tent in the picture has 6000 mm.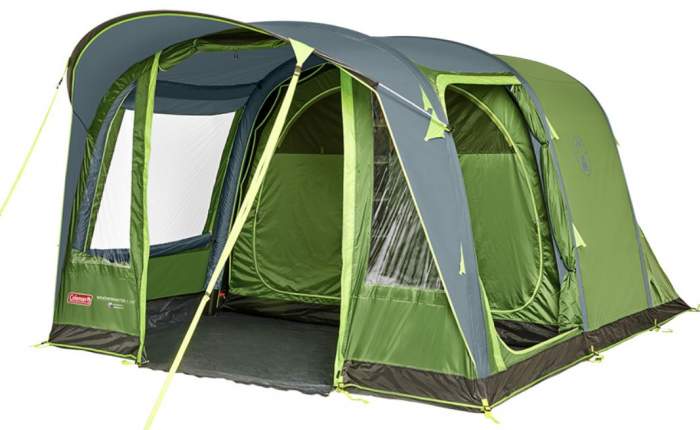 If you want to have some reliable brand with a high waterproof rating, then check among Zempire tents, Robens tents. But note that Core tents usually have a low official rating but they are very reliable. The same holds with Browning Camping tents.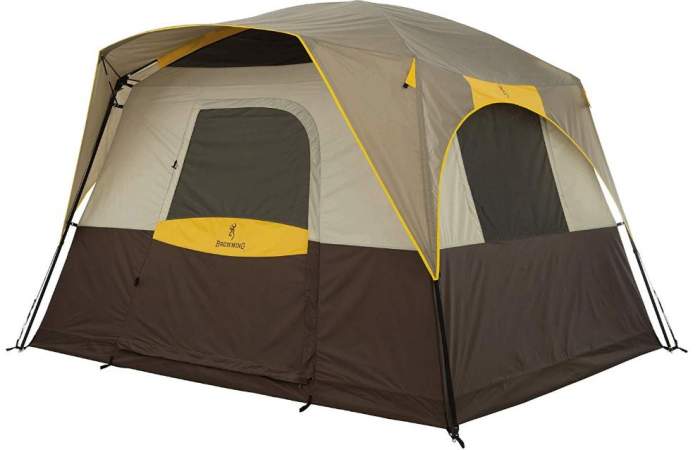 Does Coleman own OZtrail?
From what I know, the answer is no. Coleman has several branches on different continents, including Australia, but Oztrail is a separate brand.
Which is the best family tent?
This question has no a single answer. It depends on what is meant by 'the best'. This can be the best for summer camping, if so, then go for some nicely ventilated cabin style tent. If this is for a cold environment, then check among my tents for cold weather camping.
If this is for a windy place, then definitely avoid cabin style tents and choose a low profile and aerodynamic dome tent. If this is for winter camping, consider a tent with a pipe jack where you can use a wood burning camp stove.
If you want a best tent for all seasons, then the optimal option may be some of the canvas camping tents. There are more issues to consider, like the weight, packed size, ease of use, poles material, budget. So you realize how complex this question is.
What should I look for in a family tent?
I would start with the size first, make sure that you have enough space for sleeping and for gear storage. Usually, the capacity is determined by the number of sleeping pads that can fit on the tent's floor. But this will depend also on the climate, and here is why.
If this is about a place where you may expect lots of rain, so that you must stay inside in longer intervals, make sure you have a living room, a proper ventilation, and a waterproof tent. In such an environment, you might want to have solid windows as well.
But if this is about summer camping in a dry area, go for a tall tent with lots of mesh on the ceiling and in the windows, if possible a tent with a screen room, and with a great ventilation in general.
What about cold weather camping? Well, make sure that the tent is closable but with venting options. On the other hand, do you want separate bedrooms? How about multiple doors, storage areas, etc.
Do you plan to change the camping place frequently? If so, make sure that you choose an easy to use tent. So there are many issues to think about, I could make a really long text on this question alone.
What size tent do I need for a family of 5?
This is related to the previous question. It depends on many factors, but make sure first that you indeed have enough space for 5 sleeping pads on the floor.
There are big differences when you check among the tents built for the EU market and those on the US market. You have seen the Browning Camping Big Horn 5 Person Tent shown above, it offers only 80 ft² (7.4 m²). So this is far from enough for 5 people, and the official capacity makes no sense at all.
But if you check in my list of best 5 person camping tents, you will realize that the largest may offer 18 square meters. One great example is the Zempire Aero TL PRO Series Tent shown in the picture.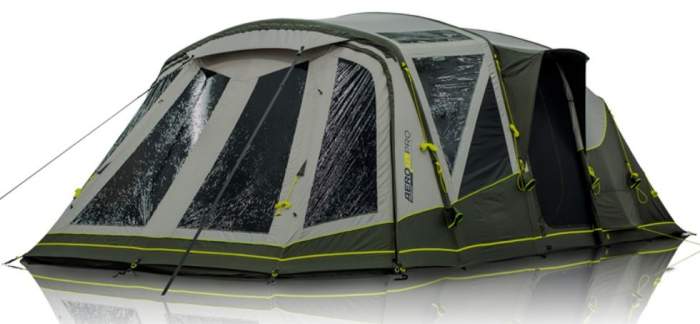 So you see, the differences may be drastic and the size you choose will depend on how much comfort you want to have in a tent.
Is 4000 mm waterproof good for a tent?
The answer is yes, this is more than good. Assuming that the seams are taped, such a 4000 mm waterproof rating is more than enough, you will be protected in any environment, and you will never need more.
But I already discussed this issue above, so even 1000 mm can be completely enough if the seams are properly sealed.
Is Coleman tent waterproof?
Coleman as a brand has different branches for the US, EU, and Australia. So when you compare the official waterproof rating and prices, the differences are huge. On the other hand, this is not about 'tent', this is about tens of tents, Coleman has them many on the market.
Coleman tents on the US market are budget friendly, but they are far inferior to those on the EU market. You can see this Coleman Mosedale 5 Family 5 Person Tent where the waterproof rating is 4500 mm, but some of them have 6000 mm as well.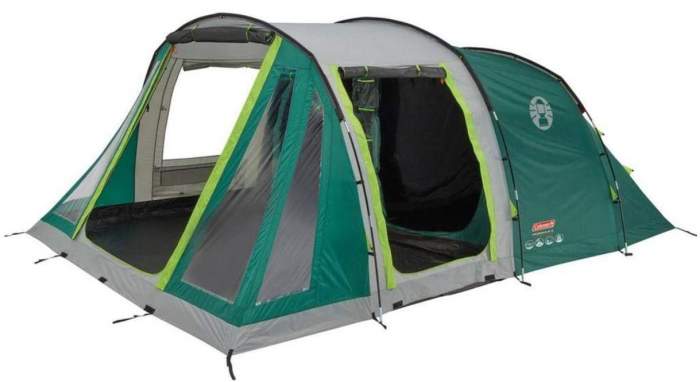 But most of Coleman tents on the US market come without an official waterproof rating, so it is best to test such a tent in controlled conditions.
Which is the best tent manufacturer?
This question is similar to the question what the best family camping tent is. There is no single answer. It depends on many aspects.
If you are buying a tent for the EU area, you will not make a mistake if you buy some of Berghaus, Zempire, Robens, Coleman, or Vango tents. You have many of them presented here in the site, just search under these names and you will find them.
The situation on the US market is very different. I already mentioned Core, Browning Camping, but check also among The North Face, Mountainsmith, and Big Agnes tents.
Are pop up tents water proof?
There is no simple answer to this question. This is all the matter of a particular tent, its manufacturer, craftsmanship, construction, etc. Some pop up tents have a separate partial coverage fly, and this should add to their overall rain protection.
Is OZtrail tent good?
Similar to the question about Coleman above, this is not about a 'tent', this is about tents. They have them many.
As far as I know, Oztrail tents are reliable and nicely built. There are several of them presented here in the site. This brand has a good reputation in general.
Which is the best blackout tent?
This question makes no much sense. The best for whom? For what kind of environment? For how many season. For what budget? As you realize, it is impossible to give a simple answer.
However, very good budget tents are those from Ozark Trail and Coleman. I would point out Coleman in particular. They have blackout tents built separately for the EU market as well. But these tents are far more expensive than the tents on the US market.
All Coleman tents have an incredibly high blackout rating. Most of them officially block 90-99% of the daylight. So if you want a true dark rest or blackout tent, check among Coleman tents. One example is this Coleman Tent Meadowood Air 4 Person. You will want to see also my list of the best dark rest tents.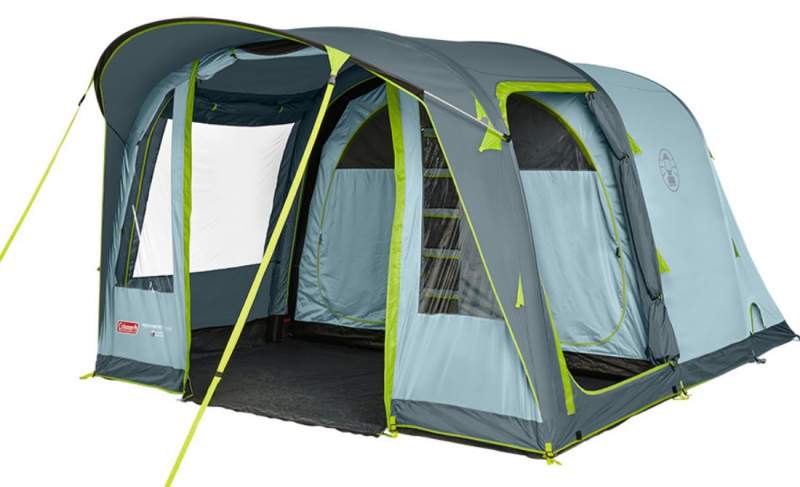 Which 6 man tent is best?
If you check around, you will notice that this particular group of 6-person tents has more tents on the market than any other. However, there is no other group with so huge differences regarding the size and features.
In fact, some of the largest tents on the market are those with the official capacity of 6 people only. But at the same time, did you know that there are 6 person backpacking tents?
The largest among them are built for areas with lots of rain, and they normally include a large living room. So the official 6-person capacity determines only the number of sleeping spaces in the bedrooms, while the tents sometimes can accommodate twice as many people.
This is one of the reasons why it is impossible to say which 6 man tent is the best. But there are many more of course. So if you need such a tent, make a list of features you want, and then check in my long list of best 6 person family camping tents.
What is the best air tent to buy?
There are many brands that build inflatable tents, and many questions related to this particular type are answered in my separate text. So please have a look and I am sure you will find the answer there.
Can you machine wash a Coleman tent?
It is hard to believe that such a question exists at all. In any case, the answer is no. Tents are not supposed to be machine washed.
Who makes Coleman tents?
As far as I know, the Coleman brand belongs to Newell Brands. I could not find any reliable information about their manufacturers, but I am convinced that their products come from China.
What material are Coleman tents made of?
The majority of Coleman tents are made of polyester which is used for the body and the fly, and polyethylene used for the floor. However, they do have polycotton tents on the EU market.
As for the frame, they use fiberglass, aluminum, steel, and sometimes steel-fiberglass combination. But they also have inflatable beams for the tent support, the Coleman Tent Meadowood Air 4 Person (shown in the picture above in the text) is a great example.
Is Coleman a good brand of tent?
For the US market, Coleman builds budget tents, they are very popular because they are so affordable. Are they really good? I would say they are a good value for the money.
On the other hand, Coleman-EU tents are very expensive, and I would say for all the good reasons. They are large, reliable, and comfortable. So it all depends which of their tents you consider.
Does Marmot make good tents?
Marmot is a globally respected brand, and the same holds for their tents. There are many of them presented here in the site and you will see them if you follow this link.
So the answer is yes, Marmot builds quality tents. One of them is shown in the picture, so please follow the link to read more: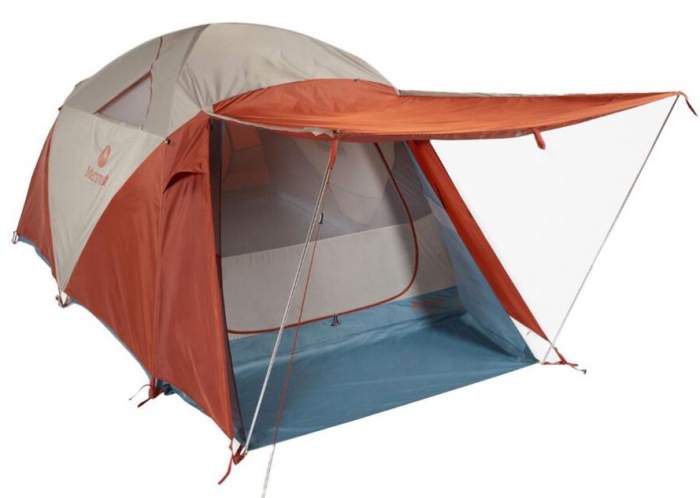 What are the 4 main types of tents?
I have seen this question asked and also 'what are four different types of tents', and I am not sure that I know the answer because the question is not clear.
Regarding the shape, one could group them all into dome tents, cabin type tents, tunnel tents, bell shaped tents, A-frame tents or ridge tents, so this is more than '4 main types'.
Regarding the support, you can have steel, fiberglass, aluminum, and air beams. So this could be 4 main types.
Regarding seasons, there are summer camping tents, tents for warmer weather in general (i.e., 2-season tents), 3-season tents, and 4-season tents. So again, this could be one way of classifying them in '4 main types'.
What's the difference between a 3 and 4 season tent?
A 3 season tent is roughly speaking suitable for 3 seasons. But note that a tent that performs well as a summer camping tent, can hardly be excellent in a colder environment as expected in three season camping.
On the other hand, the term 4-season tent is usually misleading. This should imply a tent that is good for year-round use, but in reality this term is used mainly to describe the winter camping tent.
The closest that you can have for a 4-season use is a quality canvas or polycotton tent.
But what is the difference? A 4-season tent is supposed to protect you from the cold and from winds. So such tents must have a closable construction and strong frames. Some of them can be used with a wood burning tent stove. Did you know that there are also insulated camping tents?
What is an instant up tent?
This is a variant of a question that has already been discussed above. Some tents do open like an umbrella, and the word 'instant' may be taken literally.
What is a tent without sides called?
My guess is that this is about sunshades, but I may be wrong. There are examples of such shelters here in the site, see one on the picture: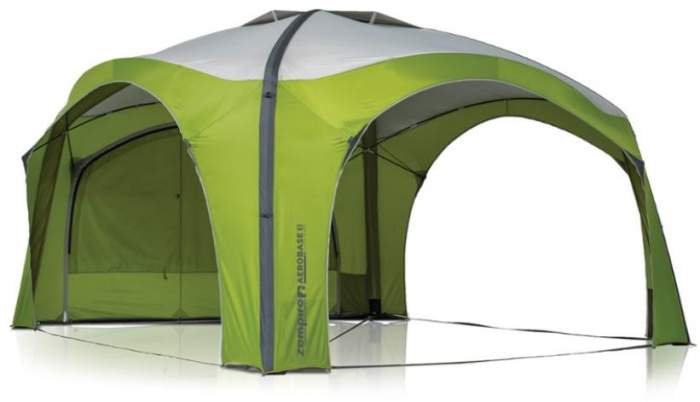 But note also that some screenhouses also have removable walls and they could also belong to this type of sunshades.
Are tunnel tents good in the wind?
I would not put tunnel tents at the same level as dome tents when this is about their performance in windy places. But indeed these tents can perform well in such situations.
Typically, tunnel tents are long and quite tall, so it is best to orient the tent with its rear side in the direction of the wind. This is because the rear side of most of tunnel tents is very aerodynamic.
What is ridge tent?
A ridge tent is typically the same as an A-shape tent, but this is not the A-frame tent. This means that you have front and rear poles that are connected with one ridge pole.
When the fly is on, the roof is A-shaped. Sometimes you can have such a shape even without the connecting pole.
From all this you realize that a ridge tent is not freestanding. If you check in my About page, you will see our first tent that was of that type.
What is a geodesic tent?
A geodesic tent is a sort of a dome tent, more precisely this is a tent with a more or less spherical shape achieved by numerous poles that cross each other. This creates many intersection points, so the structure is very strong and stable.
Some of the most famous expedition and mountaineering tents are of this type. The example below, the Mountain Hardwear Space Station Tent is an excellent example. Note that I have a separate text on this topic.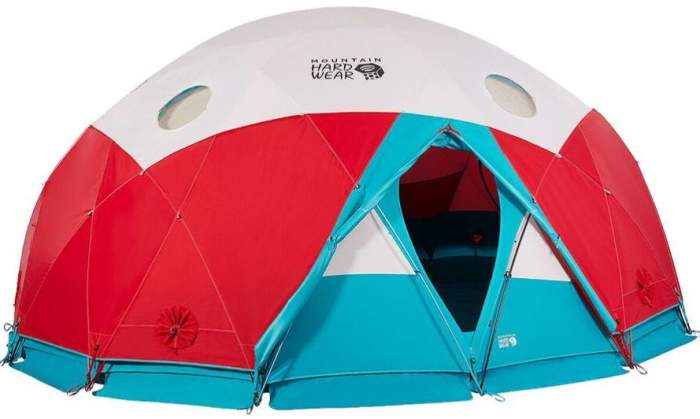 Are tunnel tents sturdy?
Tunnel tents are usually less sturdy than dome tents. They are supported with inverted-U shaped loops, so they are stable laterally but not along their main axis. This is why tunnel tents are usually not freestanding.
But there are exceptions, some tunnel tents have a ridge pole that crosses all the loops, and such a structure can be freestanding and very stable.
What wind speed can a tent withstand?
This very much depends on the type of the tent, and I mean primarily of its shape and construction. Some geodesic dome tents are designed to withstand winds of up to 50-60 mph.
The Bushtec Adventure Nomad 6 Person Bow Tent can withstand such conditions and this is just a dome tent. I have a separate text about best tents for windy conditions.
Are dome tents good?
I mentioned dome tents a few times in the text above. Dome tents are the best you can have if you have to camp in windy places, above tree line, etc.
Many of dome tents are also two-layer type, with an inner canopy plus a full coverage fly. So if you need a shelter for full protection against elements, many of dome tents would be your choice.
Dome tents are usually very compact, and some are very light, and this holds even for larger tents of this type. So if you need a tent for the trail and this is about a group, dome tents are the only option.
Where should you use A-frame tents? Are A-frame tents good?
The term A-frame implies poles that create an A-shape, but in reality such tents are rare. Typically, this phrase is incorrectly used for the ridge tents mentioned above because of the roof that has such a shape but these are supported by vertical poles.
But there are framed tents on the market, and they have a roof that is like a roof of a house with such A-structure. From what I have seen, some people also use the term wall tents for such structures. You can read more about this in my separate text.
As for the question where to use, if this is about framed tents, they need lots of work to set them up. So you would not use them if you change the place frequently. Are they good or not? The shape does not necessarily determine their quality. This depends on each of them separately.
What is the best shape for a tent?
This all depends on the purpose of the tent. If this is about windy places, then nothing can be better than a low profile dome shaped tent.
But if you want a tent for a warm weather dry climate family camping, you will definitely want a cabin style tent. Such tents are tall, with lots of volume and air circulation. If this is about cold weather camping, you will want a closable construction.
So you realize, there is no the best shape for every situation.
What is a posh tent called?
My guess is that this is about glamping tents, but I may be wrong. About the meaning of the word glamping tent, you can read here. So this is about luxurious or glamourous camping shelters.
How is a camping tent designed to keep its shape?
The tent's shape is determined by its design, so this is about the frame. The fly attaches to the frame with Velcro tabs, so it follows the general shape of the frame.
Most of the tents are not freestanding, so the shape is kept because the fly and the tent's base are staked to the ground. But in the case of fully freestanding tents the shape is completely determined by the frame.
What is a group of tents called?
I guess this question is about the so-called connectable or connecting tents. This means that you can connect them to each other and create a large structure.
See the picture below, this is an aerial view of six tents that include two Coleman 6-Person Connectable Tents and four 2-person connectable tents.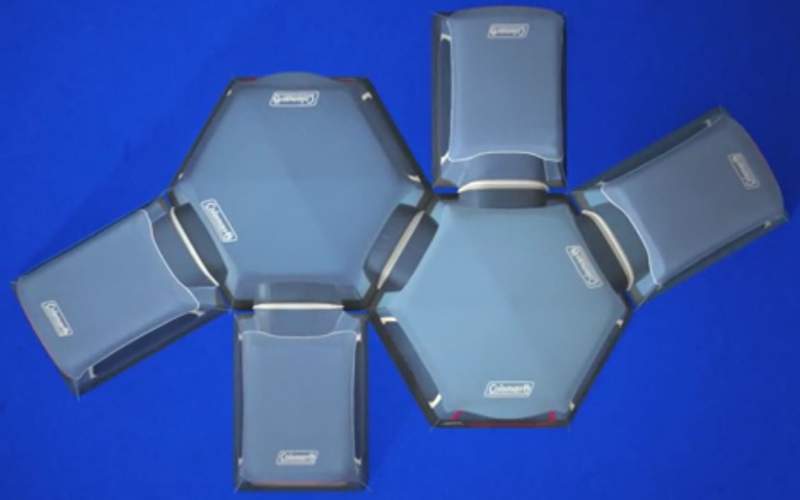 How do you make a tunnel tent? What is a tunnel tent?
A tunnel tent or tunnel-shaped tent is a structure supported with several inverted-U shaped solid poles or with air beams of such a shape.
If this is about solid poles, you pass them through the sleeves, stake one end of the tent and then extend it like an accordion. So it is best to do this with somebody. After that you stake the rest of tent.
In the case of air beams, one person can do the job with ease. In fact, some of the largest tents on the market are tunnel type and with inflatable beams. This technology allows for very large camping tents. So indeed, tunnel shaped inflatable tents are becoming bigger and bigger.
---
So this was my selection of questions about family camping tents, and my answers. You might want to bookmark this text and keep it as a reference, most likely I shall be adding more questions and answers here, and the text will grow.
Let me know if you have any specific question and need an answer, there is a comment box below.