---
Here I give a thorough guide to the types of tents for camping with respect to their construction, weather resistance, setup, fabric, and some other features, and I give many examples of tents with respect to all these features. 
There are many different types of camping tents on the market and it can be confusing if you are in search of one. Not everybody knows the terminology in the tent building industry, so here I give several possible classifications of family camping tents. Please keep reading.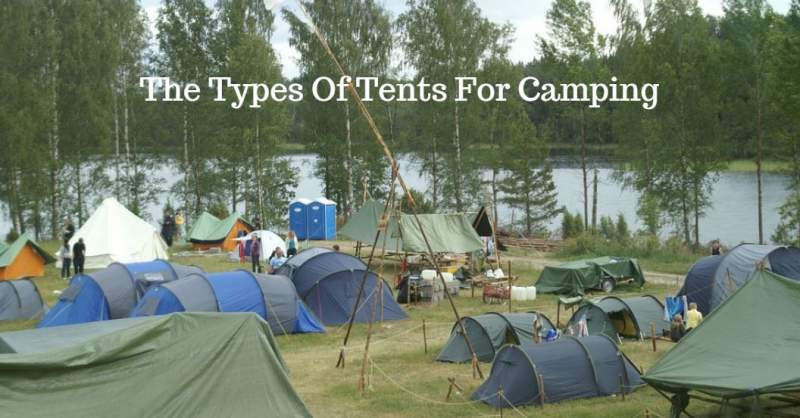 ---
Types of camping tents regarding the construction
All the family camping tents presented here in the site belong to one of these three main groups:
Cabin tents.
Tunnel tents.
Dome tents.
Bell tents.
Teepee tents.
Cabin Tents
The cabin type tents are described in detail in my another text. You can see many of them in the category Cabin Tents and some of them are also instant tents. Here just to stress that those are boxy and tall structures with many windows and frequently with multiple rooms, mostly suitable for summer camping. Many of these tents are freestanding, but it is always a good idea to stake them properly. See one typical in the picture below.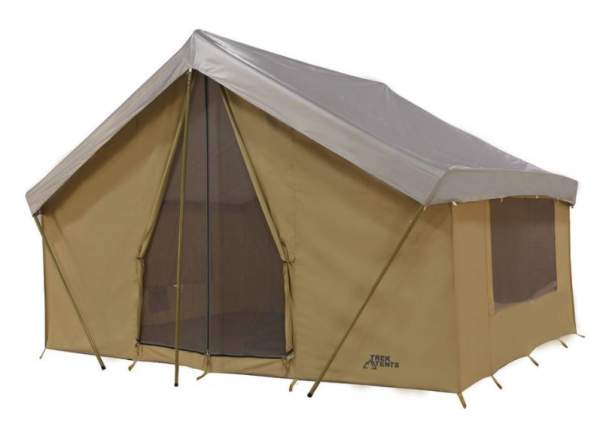 Tunnel Tents
The tunnel tents are what the name suggests, elongated structures with poles creating arches. Such a design implies that frequently you have almost the same height along the main axes of the tent, so you have lots of headroom here, although not as much as in the cabin tents. There are many of them described in the site, and one particular sub-group are those with inflatable air beams instead of classic poles. You can see many of them in this text.
Many of the tunnel tents for family camping are with multiple rooms, so if you have a look at my list with 4-room and 5-room tents you will see many of them there. Great examples of the tunnel tents are these Vango Stanford 800 XL, Eurohike Buckingham Elite 8, Coleman Rocky Mountain 5 tent, and many more, check in the category Tunnel Tents.
Tunnel tents are never freestanding, you have to stake the front and the rear sides properly. They are laterally very stable but you still have many guylines on their sides. Sometimes, these tents have internal triangular tension bands, this is typical for Vango's air-beam tents. You can see such bands in the Vango Orava 600XL tent, in Vango Woburn 500 and in many other tents from this brand.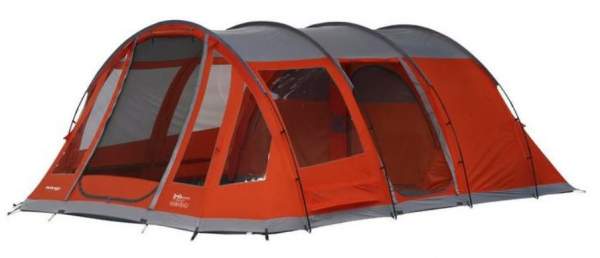 Dome Tents
The dome tents are the simplest structures when they are in their standard shape. You can see many of them in the Dome Tents category here in the site. In such a case you can have a full fly type like this Eureka Midori Basecamp 6 tent and the Marmot Limestone 6 tent. But some of them are also with windows and with a partial fly, like these Timber Ridge 6 and Coleman 6 Person Sundome tents.
But many of the dome tents are the extended-dome type, and here you can see some varieties. For example, you can have the central dome and symmetric extensions on both sides, and typical examples of that type are this Coleman Red Canyon 8 tent and the Coleman Montana 8 person tent. The former is a 3-room design while the latter is a single room tent.
Yet another sub-type is the extended dome tents with an asymmetric extension. So you can have a structure like this Coleman Evanston 6 screened tent and the Coleman Carlsbad 6 tent, both with a screen room attached to the main dome. The other option is with a porch or a vestibule supported by an extra pole, and you can see it in this Big Agnes Tensleep Station 6 and the EXIO 8 person tent.
Some of these tents are freestanding, but this is never the case with the mentioned extended-dome type tents.
Bell Tents
Bell tents are typically with a central thick pole, plus eventually an A-shaped pole for the door and this is all. From this you realize that they are never freestanding, so indeed you have to stake them properly. Some of them are extremely tall and very large, but one person can set them up.
Many of the canvas tents that have appeared on the market recently belong to this group. The examples are the Teton Sports Sierra 16 and Danchell Cotton Bell Tent shown in the picture below.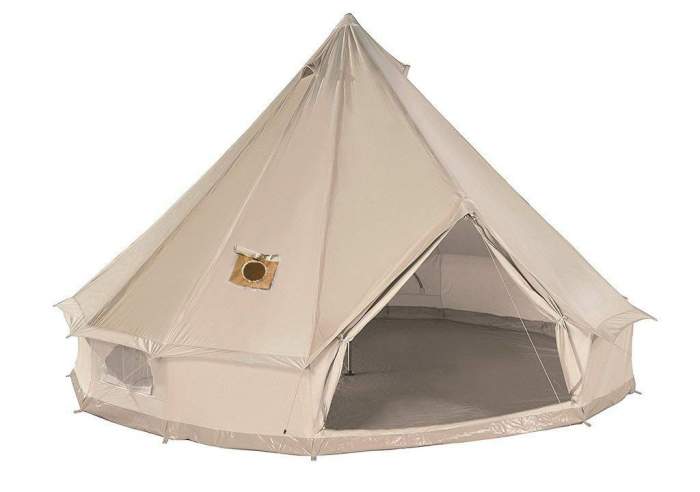 Teepee tents
Teepee tents (or tipi tents) are very similar to the bell-shape tents. They follow a similar design with one pole and a sealed floor. The most important difference is that they do not have any vertical wall section as in the picture above. You can see this Wenzel 5 person teepee and also this Winterial 6-7 person teepee as nice examples.
---
Tent types regarding the weather resistance
Here I would classify the tents in the following three groups:
Summer camping tents.
Three-season tents.
Four-season tents.
Winter tents.
The summer camping tents are typically with the following features (see the picture below):
Minimal fly.
Lots of mesh – in the ceiling and in the windows.
Large windows & large doors.
Some have screen rooms.
These tents are frequently cabin style.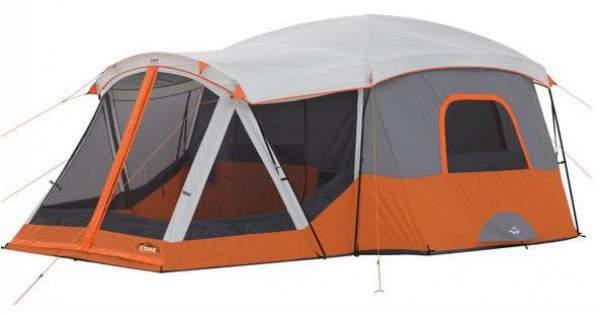 The three-season tents are usually with the following features: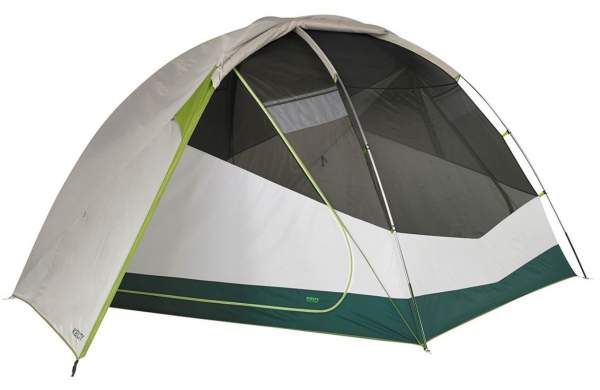 The term four season tents needs some clarification because of the following:
Very frequently this term is used to describe winter tents. But a typical winter tent can be very inappropriate if you would use it in the summertime and in a warm environment. In my separate text I gave a list of tents for a cold environment, and winter tents belong here.
The true 4-season tents are rare. In fact, these tents are designed to protect you from whatever is outside, regardless if it is cold or hot. So these are insulated tents, and one of the rare examples is this Crua Loj 6 tent.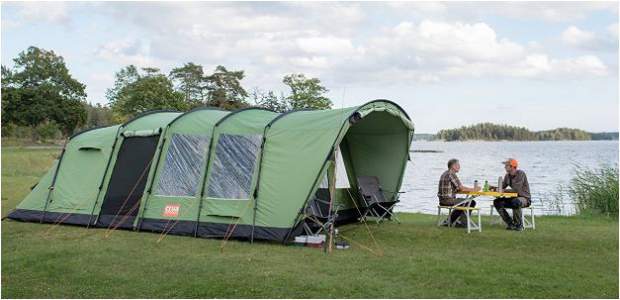 About winter tents see a bit more in my separate text where I have outlined the basic differences between winter tents, 4-season tents, and 3-season tents.
---
Types of tents with respect to their setup 
Here you have two groups:
Instant setup tents. The setup of these tents is typically in one or two minutes and this holds even for the largest tents on the market.
Non-instant tents.
I have seen some mentioning air beam tents as instant tents and I am not sure if this is completely correct.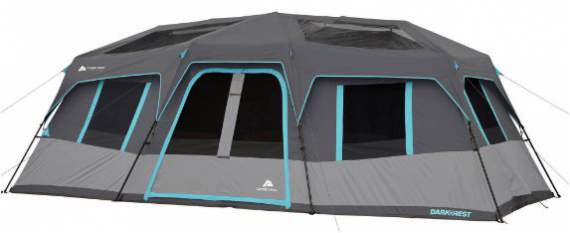 ---
Tents types with respect to their fabric
Here I see the following two major groups:
Tents with a breathable fabric. You can have the following sub-types: cotton tents, poly-cotton, and synthetic breathable tents (typically Gore-Tex or similar materials). You can see more about this in my text dealing with the tent materials. The Crua Loj 6 tent is one of these.
Non-breathable tents. The absolute majority of the tents on the market are in this group. These are synthetic fabric tents and they rely heavily on vents and on mesh on the ceiling and on openings (doors & windows).
---
Tent types regarding the number of layers
Here you have the following groups:
Single layer tents.
Double layer tents.
Mixed (hybrid) types.
There are examples of single layer tents described here in the site, like this Coleman 6 Instant Tent and also the Crua Core Dome 6 Person Tent. So here you do not have a fly, the ceiling is made fully waterproof instead, see this nice example below.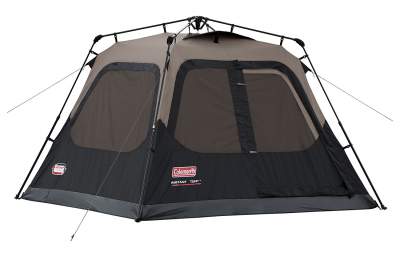 Note also that most of the canvas or poly-cotton tents here in the site are single layer type, but there are exceptions – you can see the Jet Tent F25DX 10 Tent shown in the picture above, it is with a partial fly which protects vents on the ceiling.
Most of the dome tents here in the site are double layer type, so you have an inner tent plus the fly. If the fly is the full cover type, this is then the double layer tent in the true sense. There are some great examples of cabin tents in this group, see this Coleman Octagon 98 tent which has a full cover fly.
Hybrid type here implies the following – one part of the tent is a single layer and the sleeping part is a tent within the tent so it is a double layer. This is very frequent in tunnel tents in general and in particular those with PVC windows. See this example, the Vango Odyssey Air 800 Tent:
---
Freestanding & non-freestanding tents
This is yet another way to categorize all tents. But, strictly speaking, the true freestanding tents are rare. For example, many cabin tents are formally freestanding, but those are tall and heavy structures and I would not use any of them without staking them properly.
The Coleman Instant 6 person tent shown in one of the pictures above is a great example of a true freestanding tent. Also, many dome style tents with a partial coverage fly are true freestanding tents – in this case you have a minimal fly which connects to the frame in the corners and you can pitch such a tent even on the concrete or on the rock. See this Coleman Namakan Fast-Pitch Dome Tent 5 Person as a great example: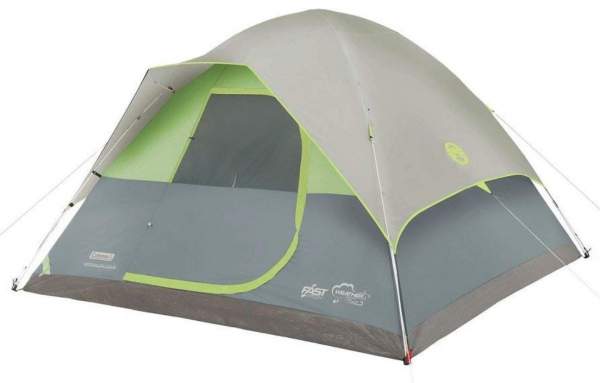 Many tents are partly freestanding or semi-freestanding, and by this I mean the following – the inner tent and its frame are self-supporting and freestanding, but when you add the fly, it is with one or two vestibules and those you have to stake down to have them functional. But in emergency situations, you can indeed set this tent up without staking down the vestibule, and spend the night inside. See this Mountain Hardwear Optic 6 tent as a typical example:
---
Final thoughts
So this is what I think you might need to know about the types of tents for camping. I shall update this text in the future so please bookmark it and visit it again.
Do you think I have missed mentioning anything important? Do let me know, I shall be happy to improve the text, there is a comment box below. Thank you for reading and have a nice day.
---